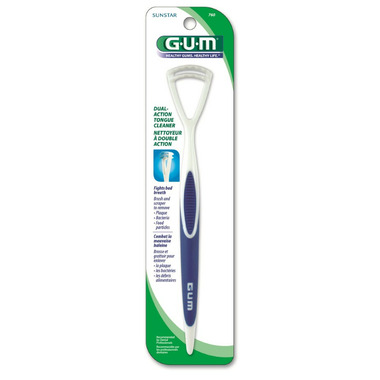 Colours May Vary
GUM Tongue Cleaner
is rated out of
5
by
50
.
---
Description
The Only 2-in1 Tongue Cleaner - Brush & Scraper for a maximum clean!
Designed for maximum cleaning with two rows of bristles and scrapers.
One side features two rows of bristles for brushing.
The other side features two rows of scrapers for scraping.
Effectively designed to remove the maximum amount of plaque and bacteria.
Soft, sturdy bristles and multiple, curved ridges trap and gently dislodge and remove plaque to clean tongue.
Comfortable narrow head minimizes gag reflex.
Ergonomically-designed, comfort grip handle for control.
Professionally recommended to fight bad breath.
Tongue Scraper is great for getting a deeper clean.

Please note: The colour you receive may vary from the image shown.
Rated

4

out of

5
by
Pentel
from
A toothbrush cleans better, but this scraper can go farther and not trigger a gag reflex. It's not as good as I had hoped, but it does its job - as I said, I don't choke when I use this.
Date published: 2012-04-25
Rated

5

out of

5
by
Kabouter
from
The perfect tongue scraper
I hesitated purchasing a plastic tongue scraper as opposed to a copper one but its shape, additional bristles and affordability led me to give the GUM model a try. I'm glad I did! The gag reflex is indeed lessened so I can get further back on the tongue. The double rows of bristles and scalloped scrapers are more gentle on the tongue than my old straight-edged version that sometimes caused a little tongue bleeding.
Date published: 2023-01-22
Rated

4

out of

5
by
Jo
from
Does the job. I've used this product for several months now.
Date published: 2011-09-16
Rated

5

out of

5
by
QueenJean56
from
Exceptional Tongue Scraper
Gum Dual Action Tongue Cleaner is exceptional!!! I have used other tongue scrapers, but yours has bet everyone else. My tongue and cheeks are so clean since I started using this tongue scraper that if I do not use it my mouth feels unclean to say the lease. Once you get use to using this product you will not stop using it. This is an exceptional and excellent product.
Date published: 2017-08-14
Rated

5

out of

5
by
cabcam
from
Good results for me!
So happy to find this! It took a couple of "scrapings" to get my tongue in good shape. I feel I have a clean mouth now. I really like the "scraper" better than the brush, but I do use both sides. I am so happy I found these. Will keep using it and then purchase more.
Date published: 2018-11-25
Rated

5

out of

5
by
NM
from
My holy grail tongue scraper
Don't know why there are not more reviews but I used this tongue scraper for the first time and it's simply amazing and very affective compared to other's I've tried. Oral hygiene is so important and this extra measure with GUM will keep your mouth healthy. Seriously!
Date published: 2020-09-04
Rated

5

out of

5
by
tracylw72
from
Best tongue scraper out there!!
I got this tongue scraper from my dentist & I loved it. I wanted to get another one but could not find this brand or any type like it. My dentist no longer hands the tongue scraper out either.Tried others & they were junk. I have to buy from this site just to get it.
Date published: 2016-01-29
Rated

5

out of

5
by
LStrebe
from
Gentle but Very Effective
I have owned a few of these over the years. Best tongue cleaner available. Gentle but removes bacteria from the tongue that causes bad breath. This item was easy to use and lasts much longer then others I have encountered. I would recommend this for everyone.
Date published: 2015-12-27