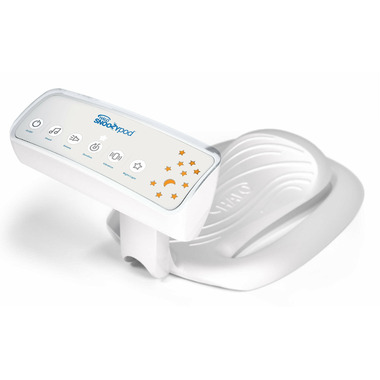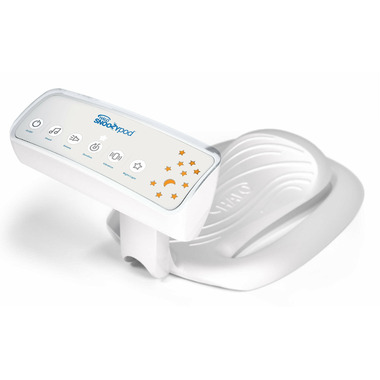 The Halo SnoozyPod vibrating, all-in-one bedtime soother is the first device to combine sounds and lights with vibration to gently lull infants and toddlers to their best sleep. Designed to fit most cribs, toddler and bunk beds, the SnoozyPod's calming vibration, soothing nature and womb white noise sounds and starry-night projection light create the perfect environment to help your child fall and stay asleep.
Combining the latest research on sleep environments, Halo has thought of everything so your whole family can be well rested and happy. The starry-night projection uses a soft red LED light because research shows red light does not interrupt our body's circadian rhythm. In addition, SnoozyPod is blue tooth enabled, so caretakers can activate the functions from anywhere in the home, without encouraging wakefulness by entering their room. The soothing womb and nature sounds can be played for 30-minutes, or set to play all night long to help quiet household noises that may disrupt sleep.
An AC adapter allows continuous use, with back up battery option convenient for traveling or power outages. The SnoozyPod fits snuggly under the mattress leaving a safe, flat, firm surface for your child to comfortably sleep. And most important to Halo's safe sleep mission; when a baby is happy and comfortable in his crib, he's most likely to stay in the safest place for him, his own bed.
Features:
2 levels of soothing vibration radiates throughout the mattress to calm babies and children to sleep
Calming starry night ceiling projection with red LED light to provide enough light to see without causing wakefulness
3 Comforting white noise sounds; heartbeat, stream, and ocean
Looping sounds play for 30 minutes, or all-night-long to block out household and environmental noises that can disrupt sleep
Bluetooth remote enabled for iOS and Android so you can activate the device without stimulating the child
Designed to make the transition from crib to toddler and twin beds
Fits slotted and spring bed frames
Not intended to be used with a box spring
Easy to install, just lift the mattress, slide SnoozyPod through crib rails at a 90-degree angle, then lay SnoozyPod flat and run power cord under the bed
Mattress will lay flat over the SnoozyPod vibration pad while adults can reach the control pod outside of rails
Foam cushions are placed at contact areas to protect cribs and beds from scrapes and dings
Powered by AC adaptor
4 AA back-up batteries optional (not included)