Herbivore Botanicals Brighten Mask
Pineapple Enzyme + Gemstone Mask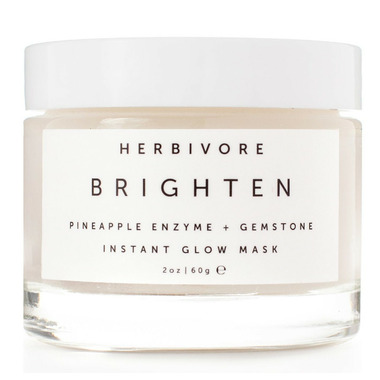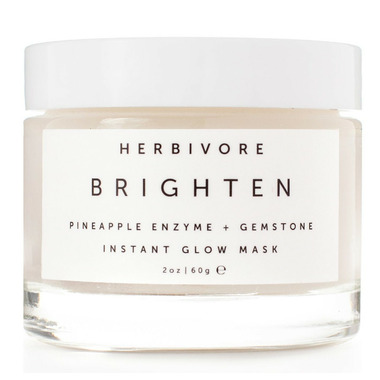 Herbivore Botanicals Brighten Mask
Pineapple Enzyme + Gemstone Mask
Herbivore Botanicals Brighten Mask contains gentle fruit enzymes combined with micronized Tourmaline gemstone and rice powder to naturally brighten skin.
Features:
Brazilian White Tourmaline Gemstone - Naturally brightens and illuminates the complexion. It also creates a slight warming effect and increases circulation within the top layers of the skin leading to healthier skin cells and more vibrant skin.
Pineapple and Papaya Enzymes - Natural forms of alpha hydroxy acids (AHAs) that gently resurface and exfoliate the skin, leaving it smoother and brighter. Natural fruit enzymes are more gentle than traditional chemically produced alpha hydroxy acids, which tend to dry out the skin.
Rice Powder - Has been used in Japan for centuries to brighten, soften, and smooth the complexion.
Directions:
Apply a thin layer to clean skin. Leave on 15–20 minutes or until mask is completely dry. Rinse with warm water. Sensitive skin: Leave on 5 minutes and rinse with warm water. For the first three nights, use nightly. After the third night, use 2–3 nights per week. Only use this mask at night as you do not want to expose skin to sunlight directly following use. Use SPF during the day after using this mask to maintain results and avoid sun damage. Slight to moderate tingling is normal with this mask.
Ingredients:
Aloe Barbadensis (Organic Aloe) Leaf Gel, Hydroxyethyl Cellulose (plant derived), Glycerin, Carica Papaya (Organic Papaya) Fruit Extract, Pineapple Natural Melange, Ananas Comosus (Organic Pineapple) Fruit Extract, Brazilian Micronized Tourmaline Gemstone Powder, Oryza Sativa (Rice) Powder, Leucidal (Radish Root ferment)