Herbivore
Herbivore Pink Clay Exfoliating Mask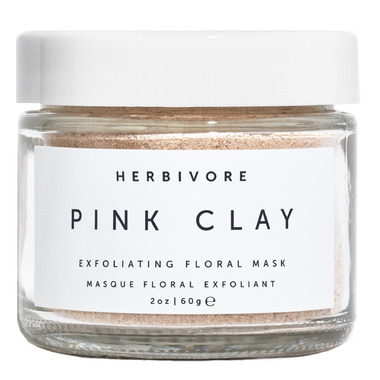 Herbivore
Herbivore Pink Clay Exfoliating Mask
Description
Herbivore Pink Clay Exfoliating Mask is formulated with French Pink Clay, organic Rose Hip, Chamomile and Rose petals, this gently exfoliating mask leaves skin feeling soft and looking smooth and radiant.

Key Ingredients:
French Pink Clay: Used to clean and purify skin, French Pink Clay is a very gentle clay known for drawing out impurities without drying your skin.
Rose Hips: Rose Hips are the fruit of the wild rose plant. Naturally rich in Omega Fatty Acids 3, 6, and 9 to visibly plump skin.
Chamomile Flower: Known for its calming benefits, chamomile flower also gently exfoliates the skin.
Directions:
Mix 1/2–1 tbsp. with a few drops of warm water until a nice paste is formed. Apply paste to skin and leave on until almost dry, not allowing it to dry fully. Remove with warm water and a washcloth. While this mask is formulated for all skin, those with more sensitive types should spot-test first. If irritation occurs, discontinue use.
Truly Natural. Vegan. Cruelty-Free.
Herbivore products are truly natural, vegan, and cruelty-free. They contain no synthetic ingredients— this includes no dyes, no fragrances, and no synthetic preservatives. Additionally, they are concentrated blends containing no fillers and using the minimum amount of ingredients necessary to achieve the maximum results.
Ingredients:
Kaolin Clay, French Pink Clay, Rosa Canina Fruit Powder, Matricaria Recutia (Chamomile) Flower, Rosa Centifolia Petal (Rose Petal) Powder
Highlights