HoMedics
HoMedics SoundSpa Portable White Noise Machine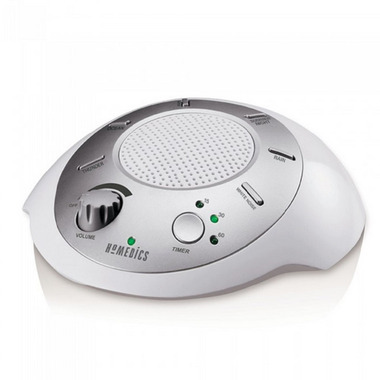 HoMedics
HoMedics SoundSpa Portable White Noise Machine
Model: SS-2000
HoMedics SoundSpa Portable White Noise Machine
is rated out of
5
by
660
.
---
Description
The Homedics SoundSpa Portable Sound Machine creates a peaceful sleep environment to fall asleep faster and wake completely rested. With six soothing, natural sounds including white noise, this HoMedics white noise sleep machine is also the perfect addition to a nursery. The rhythmic sounds create a feeling of comfort and help calm you or your baby to sleep.
What is sound therapy? Sound therapy refers to sound being used to treat physical, mental and emotional conditions. In general, this therapy is based on the theory that all of life vibrates, including people's bodies.
Homedics Sound & White Noise Machine Features:
Natural sounds help you relax while you read, work, study or sleep
Six digitally recorded, calming sounds
Continuous sound all day & night, or

Set for 15, 30 or 60 minutes with the auto-off timer
Compact & lightweight for easy portability
Battery or adapter operated (adapter included, 4 "AA" batteries not included)
Small and portable
Great for travel

6 Nature Sounds:
Ocean
Rain
Brook
Summer Night
White Noise
Thunder
Rated

1

out of

5
by
jhail
from
Disappointed
I'm really disappointed in this sound machine. We received one as a baby gift but it started to short out around six months. This gradually got worse yo where it sometimes wouldn't turn off or would skip in the night. We replaced it after a year, but three months later the new one has started the same thing. I checked lots of retailer reviews and see this is a common problem. I'm going to try to get it replaced or money back as it is still under warranty. I'm sad that the warranty page claims that all products are considered to be without malfunction but then to see that this is a common problem. It should've been looked into by now.
Date published: 2018-08-06
Rated

1

out of

5
by
AwesomeAutismMom
from
Waste of money
My son has severe autism and severe sensory needs as well. He has used an old hand me down ORIGINAL my baby spa sound machine for 2 years. Finally had to get a new one. This was the closest we could find. Within 2 weeks the sound got gradually quieter. As he needs this to rest comfortably, it was a huge letdown. As i write this, fireworks are going off in town and the sound machine just went out completely. If you have the original and it finally gives out, do not buy this one. I don't usually write reviews ever, but as a parent that needs this product to work as it claims, it is imperative that i inform others of the products faults.
Date published: 2019-07-06
Rated

3

out of

5
by
Liz
from
I'm very concerned about some parents who have stated in their review that they use this machine at full volume. A recent study by the Hospital for Sick Children in Toronto of noise machines in general, has raised concerns about the effect this could have on hearing and language development in babies and infants. I have heard this machine at full volume and it is wonderful at drowning out unwanted sounds. However I have extremely sensitive hearing, and at full volume I find this has a negative impact and feels uncomfortable. Use it as a sleep aide for babies and infants by all means, but please turn the volume onto the lowest setting you can.
Date published: 2014-05-09
Rated

5

out of

5
by
Daggy58
from
My parakeet loves it!
I enjoy the SoundSpa and so does my parakeet Alphonse. I first tried "Rain" which I dozed off to one afternoon. It's very relaxing. I also like "Summer Night" which I only play at night and "Brook," which is great to play in the afternoon. My parakeet also enjoys the SoundSpa because his cage is on a table where I put it. He loves to sing to "Brook" and "Summer Night." "Ocean is one that he listens to for hours. So, this turned out to be a very good purchase for me and Alphonse.
Date published: 2021-07-12
Rated

5

out of

5
by
Joy538
from
So helpful!
I've owned 2 different homedics sound machines, one with alarm clock/radio and the plain one. I recommend the plain one for ease of use, and not having to reset the alarms after a power outage, which requires a unique combination of steps. I use white noise and ocean sounds most effectively, and I have traveled with it because it helps to have consistency/soothing elements in strange sleep settings. I've also purchased one for a friend, who enjoys it. Thumbs up!
Date published: 2022-05-10
Rated

5

out of

5
by
Widow82
from
Awesome
I got this two weeks ago and I I've tried every sound ,I lost my wife in February and this soundspa has been the best thing for me to feel relaxed and has helped me sleep much much better. The sounds are amazing. I highly recommend this to anyone who has trouble getting to sleep for any reason. I'm 82yrs old ,this will work for any age.
Date published: 2022-06-08
Rated

1

out of

5
by
Magsg11
from
Got 2 of these and within 8 mo. the sound cuts out
I bought two of these from Amazon.com. One I got for myself and a few months later purchased one for my mother who saw mine and loved it! I was very happy with it at first, however after about 6 months of use, it short circuits. It does not make noise when first turned on and when sound is produced, will cut in and out. This is an issue for both machines. I am very disappointed that these don't even last a full year! We buy a lot of homemedics products and truly expected better quality. I would not recommend these after my experience.
Date published: 2018-11-26
Rated

5

out of

5
by
Carolina
from
Boy! What a great deal this is!!!
This plugs into electricitiy and will run on a timer if you want it to. There are three settings: 15 minutes, 30 minutes or 60 minutes...however, you can just switch it on and have it run all night long protecting you from dogs barking, neighbors talking, car doors slamming...if you put in the batteries (four AA) you could slip it into your purse or a bag and take it traveling with you. It's 14.5 inches around; it is only 8 inches wide. There is a complete array of relaxing sounds you might want to hear: White Noise, Rain, Thunder Storm, Ocean (my favorite) Summer Night (Crickets!) and Brook. I ordered this wonderful machine for all of the important people on my Christmas list
Date published: 2020-12-12