HomeoVet Homeopathic Cats & Dogs Healthy Weight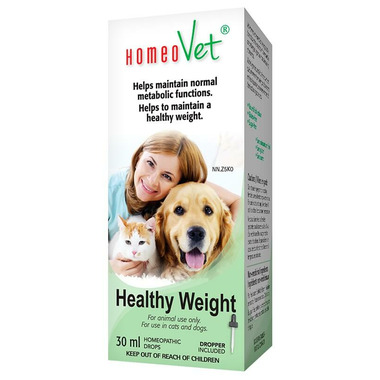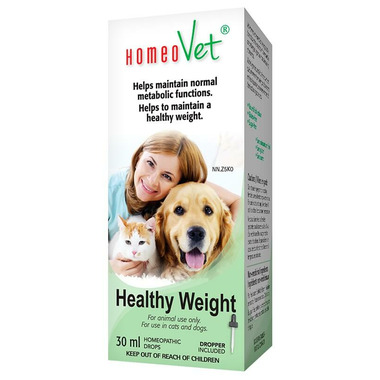 HomeoVet Homeopathic Cats & Dogs Healthy Weight
Do you want to keep your furry friend fit? Try Healthy Weight!
Healthy Weight is a homeopathic product that helps maintain normal metabolic functions and a healthy weight. Whether a condition is acute or chronic, this product can provide assistance as a supportive treatment, but will not replace traditional veterinary medicine. Ensures the well-being of your furry friend.
Features:
Helps maintain normal metabolic functions
Helps to maintain a healthy weight
Dosage:

Under 20lbs/10kg: 5 drops
Over 21lbs/11kg: 10 drops
Give drops directly in mouth or diluted in a bit of water or mixed with a small portion of food, 2 to 3 times per day and reduce intake with improvement or as directed by a veterinarian.
Ingredients:
MEDICINAL :thyroidinum,calcarea carbonica,thuya occidentalis,graphites,gelsemium sempervirens,ferrum iodatum,

NON MEDICINAL : purified ater,sorbitol,glycerin,sodium benzoate,potassium sorbate,citric acid
WARNING
: To be used only if needed. Do not extend use beyond 3 months. For animal use only. Do not use in pregnant or lactating females unless directed by a veterinarian. Exclusively for cats and dogs. Do not use if seal is broken. Keep at room temperature. Keep out of reach of children.