Jamieson
Jamieson ProVitamina Retinol Renewal Night Cream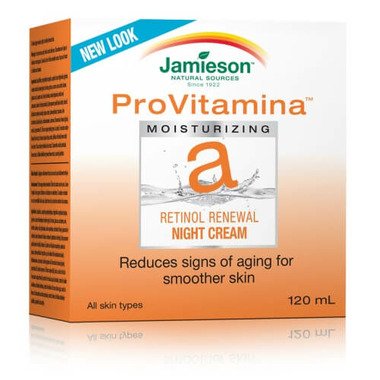 Jamieson
Jamieson ProVitamina Retinol Renewal Night Cream
120 mL
Jamieson ProVitamina Retinol Renewal Night Cream
is rated out of
5
by
7
.
---
Description
Fortified with anti-wrinkle firming nutrients and a gentle level of Vitamin A, Retinol Renewal Night Cream helps stimulate the natural skin renewal process. Applied regularly at night to freshly cleansed skin, it will reduces the signs of aging and give skin a fresh and rejuvenated appearance.

Directions: Apply gently at night on freshly cleansed skin.

Benefits

Improves skin texture
Helps reduce the signs of aging with regular use
Rejuvenates and refreshes skin

Ingredients:
Aqua, Propylheptyl Caprylate, Caprylic/Capric Triglyceride, Glycerin, Cetearyl Alcohol, Hexylene Glycol, Fructose, Glucose, Sucrose, Urea, Dextrin, Alanine, Glutamic Acid, Aspartic Acid, Hexyl Nicotinate, Retinyl Palmitate, Tocopheryl Acetate, Butyrospermum Parkii (Shea Butter), Tapioca Starch, Phenoxyethanol, Tropolone, Inulin Lauryl Carbamate, Aloe Barbadensis Leaf Juice, Triethanolamine, Carbomer, Simmondsia Chinensis (Jojoba) Seed Oil, Triticum Vulgare (Fennel) Fruit Extract, Humulus Lupulus (Hops) Extract, Melissa Officinalis Leaf Extract, Viscum Album (Mistletoe) Leaf Extract, ChamomillaRecutita (Matricaria) Flower Extract, Achillea Millefolium Extract, Ascorbyl Palmitate
Highlights

Rated

5

out of

5
by
MC
from
Rewind for aged and sun damaged skin
My 70-year-old, super-delicate skin has lots of sun damage on my forearms and hands. Although castor oil removed all my age spots, I was left with dry, crepey, darkened skin with hard, flakey, darkened spots on the surface. I decided to try ProVitamina Retinol Renewal Night Cream, seeing as it appears to be more natural than other creams and has Retinol. So far, I have used a thin layer on my arms every other night for a total of five applications. There has been no stinging, and the improvement of my arm skin is quite amazing. My arms truly look years younger. Face and neck are next. Wow!
Date published: 2020-03-24
Rated

5

out of

5
by
MC
from
Update — Rewind for Aged and Sun Damaged Skin
A year's gone by since my original 5-star review. I was quite ill for much of that year, but when I felt better I went back to using ProVitamina Night Cream. My skin texture is now smooth and refined, the coloration is even, my forearm skin has lightened to the colour of my thighs (just amazing!), and my hand skin is lighter, too. After decades of my hands swelling and deflating, they had a very crepey look, but that creepyness actually disappears for a few hours after each use of ProVitamina. I'm thinking it will eventually be negligible. My face and neck are improving, too. I had thought my hands, face and arms would forever be permatanned from all the sun exposure I had in the 1950s and '60s, but I'm becoming my pale self again and couldn't be happier!
Date published: 2021-06-15
Rated

5

out of

5
by
Leah
from
A great unscented moisturizer!
It's very hard to find unscented products, including affordable ones, but this fits the bill. The container is quite large, so I dispense some of it into a smaller container and leave the rest in the fridge so it maintains all its properties. A little goes a long way and it does indeed brighten my skin. One thing I should add - retinol can make your skin more sensitive to sun, so make sure to use really good sunscreen when you're using this product. I personally switch to a non-retinol product for July and August, then back to this one for the rest of the year!
Date published: 2022-09-23
Rated

3

out of

5
by
N_col.a
from
I really wanted to like this cream. It went on nicely, didn't need to use much, and very light in fragrance. Unfortunately it is a it too heavy for my skin and caused breakouts.
Date published: 2021-02-07
Rated

5

out of

5
by
Nyssa
from
I love this night cream for my combination skin. It absorbs quickly while leaving my skin feeling moisturized
Date published: 2021-01-06
Rated

4

out of

5
by
Joann
from
Good product and good value
Very moisturizing, skin does feel smoother after using. Definitely a night cream. Must say I have not noticed the smell other reviewers have mentioned. Four stars. Reserving 5 for the cream that does it all. Ha Ha
Date published: 2021-01-13
Rated

5

out of

5
by
Forstew
from
Everything you need
This is an excellent cream. It has all the ingredients to fight dryness and wrinkles without breaking the bank
Date published: 2021-05-30