Jamieson Vitamin D3 1000iu Tropical Chewable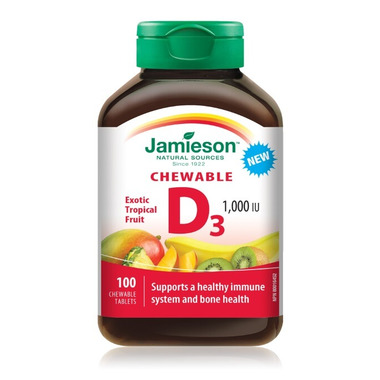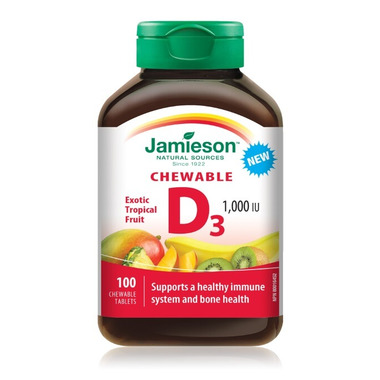 Jamieson Vitamin D3 1000iu Tropical Chewable
Jamieson Vitamin D Chewable 1,000 IU is a delicious tropical flavoured chewable tablet. Vitamin D plays a key role in the maintenance of good health while promoting the development of bones and teeth and helping the body effectively absorb calcium. Vitamin also helps support your immune system.
Features:
Helps support a healthy immune system and bone health
Helps maintain overall health
No artificial colours or flavours
Helps in the maintenance and development of bones and teeth
Delicious tropical flavour
Suggested Use:
Take 1 tablet daily.

Ingredients:
Vitamin D3 (Cholecalciferol) 25 mcg/1,000 IU. Dextrose, cellulose, natural flavours (kiwi, mango, tropical punch, passion fruit), citric acid, vegetable stearic acid, vegetable magnesium stearate, silica, sucralose.
NO salt (NaCl), gluten, lactose, artificial colours or flavours.

Caution:
Consult a health care practitioner prior to use.