Jason
Jason Natural Kids Only! Strawberry Toothpaste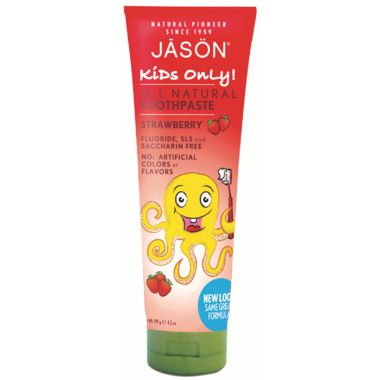 Jason
Jason Natural Kids Only! Strawberry Toothpaste
119 g
Jason Natural Kids Only! Strawberry Toothpaste
is rated out of
5
by
67
.
---
Description
Safe and natural ingredients are crucial to a child's health and wellness. Children's skin is approximately 30% thinner than adults so pure and effective natural ingredients become ever more important. JASON Kids Only! are free of harsh chemicals and contain an abundance of natural essential oils and extracts to protect, hydrate and soothe. Delicious natural fruity flavors.
Paraben and Sulfate Free
Wheat and Gluten Free
Phthalate Free
Fluoride and Glycol Free
Petrolatum Free

JASON Kids Only! Toothpaste delivers fun fruity freshness and an easy to squeeze tube. Delicious Natural Strawberry flavour keeps the kids coming back for more. Calendula and Organic Aloe Vera help soothe gums while Calcium Carbonate keeps teeth clean and healthy.
Highlights

Rated

4

out of

5
by
Kelley
from
My kids (1, 3) love this toothpaste. It has become our new standard. I like that the tube doesn't crack like prior brand that we used. The only thing that I would change about the product (and why I gave it 4 stars instead of 5) is that I would make the opening for the toothpaste smaller. The toothpaste is relatively runny and therefore it is very easy to squeeze too much onto the brush at one time.
Date published: 2011-08-11
Rated

4

out of

5
by
Angela
from
I like the toothpaste and think that the flavour is decent BUT unfortunately my daughter does not. She is 2 and prefers my minty flavoured one. Whenever I pick up the tube she resolutely states "no stwaberry". The texture is good also, so I would recommend it. I will finish the tube and she will just have to use mine :-)
Date published: 2011-07-05
Rated

5

out of

5
by
erin
from
my kids love this toothpaste! I tastes great ( I sneaked a little taste to see what the fuss was about!) so I no longer have to fight with the kids to let me brush their teeth (I have a 3 year old and 18 month old) and it really freshens their breath and their teeth are super shiny all day! great natural product!
Date published: 2011-07-06
Rated

2

out of

5
by
Lindsay
from
Bought this one as it was on sale, and my children enjoy two other natural brands of strawberry flavoured toothpaste. Sadly, I found myself buying one of the other brands days later as my children dislike the flavour of this one. Too bad because this company has great products!
Date published: 2017-05-10
Rated

5

out of

5
by
Melanie
from
My son who 9 years old doesn't really like how sweet this is - but then again I don't think he likes ANY toothpaste because that would mean he would have to actually brush his teeth. I gave it a 5 star because I tried it and think it's great for kids.
Date published: 2013-05-14
Rated

2

out of

5
by
Nighthawk18
from
My son hated the flavour
Unfortunately I feel like I've wasted my money because my son hated the flavour of this toothpaste. It seems fake strawberries are not for him. LOL I liked that it is fluoride free (in case he swallows it), so that is why I gave it two stars.
Date published: 2021-11-02
Rated

5

out of

5
by
Chantal
from
My kids all love this toothpaste, ever my most picky. They love putting the toothpaste on themselves and brush on their own. The all natural is a huge bonus. I've been using it for a number of years now and will continue to use it.
Date published: 2013-12-18
Rated

4

out of

5
by
Dionne
from
My daughter loves the taste of this toothpaste. Now she even wants to brush her teeth on her own without me telling her to. I am only giving it 4 stars because it doesn't seem to do much in terms of keeping her teeth white.
Date published: 2015-11-12