Jason
Jason Purifying Tea Tree Body Wash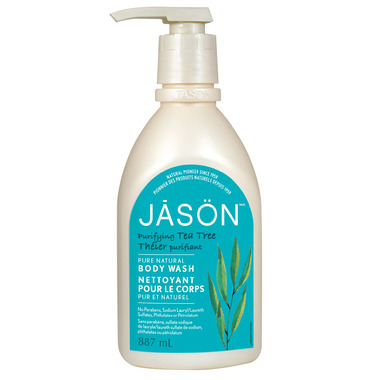 Jason
Jason Purifying Tea Tree Body Wash
887 mL
Jason Purifying Tea Tree Body Wash
is rated out of
5
by
104
.
---
Description
This natural botanical wash, by Jason Naturals, gently cleanses with Tea Tree Oil and Aloe Vera to balance, purify and soothe your skin.
Features:
Nourishes with Vitamin E and Pro-Vitamin B5
No harsh chemicals including no parabens, sodium lauryl, sulfates, phthalates or petroleum
Never tested on animals
For best results:
Apply to damp skin in the bath or shower. Gently massage into later and rinse clean with warm water.
Highlights

Rated

1

out of

5
by
Homer
from
I bought the Jason Purifying Tea Tree Pure Natural Body Wash, expecting an all natural body wash with a light tea tree oil smell that would be compatible with my "fragrance free" office. My skin is sensitive, and responds well to tea tree oil soap. Wow - was I ever surprised - IN A VERY BAD WAY !! This stuff is SO HIGHLY PERFUMED that I couldn't detect even the slightest hint of Tea Tree oil fragrance. ** This is not a 'natural product' smell and is highly incompatible with "fragrance free" environments. There is no way I can wash with this and then go into a "fragrance free" workplace.
Date published: 2013-01-08
Rated

5

out of

5
by
Helen
from
Amazing product! I have sensitive skin prone to occasional breakouts and this product not only cleanses my skin, but doesn't cause irritation or dryness. It's also hydrophiIic, meaning it rinses extremely well in water. No parabens, no sulfates or phthalates and other harsh chemicals and the price is very reasonable too for a 887ml bottle. I discovered this product shortly after suffering contact dermatitis from long term exposure to another natural body wash containing a sulfate called ammonium lauryl sulfate, a replacement to sodium lauryl sulfate found in natural products, but just as harsh on your skin. I will definitely be repurchasing Jason's Tea Tree body wash! :)
Date published: 2013-06-18
Rated

5

out of

5
by
jesnathania
from
Folks who are struggling
Folks who are struggling with KP (Keratosis Pilaris), listen up!!! This body wash is a game changer. I recently found out that cream/milk-based body wash (such as Dove or Olay) is not ideal for sensitive skin, especially those with KP. This can irritate your skin even more, thus, more chicken skin. Ever since I made the switch, and specifically using this product, I notice a HUGE difference in my skin. I have KP on my upper arms, and I'd say they are disappearing significantly. I'm getting smoother arms and no more rough bumps!!!
Date published: 2022-03-09
Rated

5

out of

5
by
Anonymous
from
I happened upon this brand in 2019, it showed up as an option in my Amazon Prime Now selections for bodywash.. at that time I was a Burts Bees enthusiast so I took a chance and now I need this ... always... tea tree oil has been very effective for my dermatitis and it smells sooooo good. Everytime someone enters the bathroom after one of my showers, they comment on how "good it smells in here!" Its not drying, lathers well and that fill bodied bottle size means it'll last for weeks!
Date published: 2020-10-30
Rated

5

out of

5
by
nikkid7c08
from
I really like the fresh clean scent of this product. The tea tree helps to soothe irritated skin. The packaging is nice and the pump works well. The large size lasts a long time and it is quite affordable for a natural product. I would definitely recommend especially if you have irritated or acne prone skin on your body.
Date published: 2019-07-07
Rated

5

out of

5
by
mikaelasch
from
My family has used this body wash longer than I can remember. It is amazing. I love the smell because it's simple and not overly fragrant. It leaves my skin feel clean and hydrated but not dry which can happen when body washes have too much fragrance in them. This is what I will continue to use for the rest of my life!
Date published: 2018-09-03
Rated

4

out of

5
by
arianaa9
from
This product isn't the best smelling, but it is Engle enough for my eczema, which is the reason why I bought it and have been using it for a few years. I liked the smell at first, but have gotten too use to it after using it for so long. I would recommend for sensitive skin and those that like the smell of tea tree.
Date published: 2018-09-06
Rated

5

out of

5
by
reneern
from
My everyday body wash. I love this. It rinses super easily, yet I always feel super clean. I love that tea tree has natural antibacterial properties. As a healthcare worker I want to feel somewhat "sanitized" but this smells so good, and I have no fears of harming the environment or myself. I love this.
Date published: 2019-09-15