Jason
Jason Sea Fresh Strengthening Toothpaste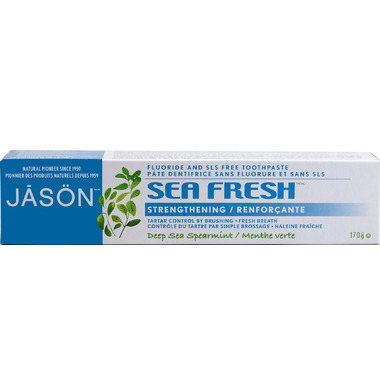 Jason
Jason Sea Fresh Strengthening Toothpaste
Deep Sea Spearmint
170 g
Jason Sea Fresh Strengthening Toothpaste
is rated out of
5
by
197
.
---
Description
Strengthen your teeth and freshen your breath, without harsh abrasives or irritating chemicals. Sea Fresh® Toothpaste features Blue Green Algae (Aphanizomenon Flos-Aquae), rich in Calcium, proteins and antioxidants, to strengthen your teeth and gums and potent Spearmint and Parsley Extracts to keep your breath fresh and clean. Our exclusive blend of polishers and stain-fighting botanicals includes Bamboo Powder, Calcium Carbonate and Silica to help prevent tartar build-up while gently brightening your smile. For a strong smile and fresh breath, use JASON Sea Fresh® toothpaste and mouthwash twice a day.
Features:

No Sodium Lauryl/Laureth Sulfates

No Preservatives

No Artificial Colors

No Artificial Sweeteners

No Saccharin

No Propylene Glycol

No Gluten
Ingredients: Calcium Carbonate, Aqua (Water), Glycerin, Sodium Cocoyl Glutamate, Mentha Viridis (Spearmint) Leaf Oil, Carrageenan, Aloe Barbadensis Leaf Juice (1) , Aphanizomenon Flos-Aquae Powder, Bambusa Arundinacea Stem Powder, Carum Petroselinum (Parsley) Extract , Citrus Grandis (Grapefruit) Seed Extract, Perilla Ocymoides Seed Extract, Stevia, Rebaudiana Leaf/Stem Extract, Silica, Sodium Bicarbonate
(1) Certifed Organic Ingredient
Highlights

Rated

5

out of

5
by
A
from
Best natural toothpaste in my opinion!
This is my favourite natural toothpaste. I've tried different versions which tend to have an odd and often off putting aftertaste, but this one doesn't. It's a bonus that it also has strengthening properties as I cannot use the more accessible toothpastes for sensitive teeth. My main purpose for switching to natural was because of recurring canker sores. I was worried about how well it cleaned, but my recent dentist appointment proved this worked just as well with proper technique. The taste is a nice minty flavour and In my opinion not strong at all. I would recommend this to others!
Date published: 2021-01-05
Rated

5

out of

5
by
Travis
from
After a battling canker sores my entire life and getting multiple sores in my mouth during any given month, I'm pleased to say this toothpaste has helped significantly drop the amount I get due to it being SLS free. I still get them, at most one sore a month and I believe this is due to stress. Problem was using other toothpastes that had SLS. Those toothpastes were causing more canker sores since I'm already susceptible to them. Best "natural" toothpaste I've used. Only one local retailer carries this product. It's rare.
Date published: 2014-02-22
Rated

5

out of

5
by
Mskittytbay
from
Fantastic toothpaste
I periodically have sensitive teeth and was using another well known brand that was supposed to help but it just irritated my mouth. Then I read the reviews for this Jason Sea fresh toothpaste and decided to try. Totally impressed with it. No burning in my mouth, no sores and best of all no pain or sensitivity now. I only use enough to cover half my toothbrush and it foams up very nicely and has a pleasant taste. Not sure why some are saying it is grainy because I did not find it to be like that. I won't buy anything else now. This is the one for me.
Date published: 2022-03-12
Rated

5

out of

5
by
Barbara
from
I found this product while doing research for fluoride free toothpastes for sensitive teeth. I have been using Sea Fresh for a couple of months now and I find this is the best Sensitive teeth toothpaste ever. I used to use Sensodyne Original, until it was discontinued it, but it was no where near as effective and contained questionable ingredients, so this toothpaste is a God send, that is for certain. I highly recommend it.
Date published: 2012-04-15
Rated

5

out of

5
by
Melissa
from
I love this toothpaste! It has a great flavour and really gets your teeth feeling much cleaner than regular toothpaste. I get that clean polished feel similar to going to the dentist. And you only need to use half as much as a regular toothpaste, so the price works out well. You will never go back to regular after using this product! It does have a slight aftertaste I find, but it's worth it for the great clean feeling.
Date published: 2013-05-21
Rated

4

out of

5
by
melanieh97
from
Jāsön Sea Fresh Strengthening
Jāsön Sea Fresh Strengthening Paste Deep Sea Spearmint is a good option for a natural toothpaste. It has a good consistency and foams up well enough to use with an electric toothbrush, which many don't. In particular, I avoid SLS, triclosan and fluoride in my toothpaste. I find that traditional toothpaste gives me mouth ulcers which this does not. It's really questionable whether adults need fluoride toothpaste, but you have to make the best decision for your personal oral health needs.
Date published: 2021-02-04
Rated

1

out of

5
by
rudi
from
chunky and inconsistent
Taste is ok but it has an unpleasant texture like chunky peanut butter.
Date published: 2021-11-03
Rated

5

out of

5
by
angewl
from
In general, I haven't found fluoride to assist in keeping my teeth free of cavities, so I prefer fluoride-free toothpastes as they don't discolor my teeth. I only really ever buy toothpastes from this brand because of their fluoride-free options and lack of hydrated silica (almost every other brand has it and I've read in multiple articles that it wears away at enamel over time). Jason toothpastes really make my teeth feel clean.
Date published: 2019-04-04