John Masters Organics Deep Scalp Follicle Treatment & Volumizer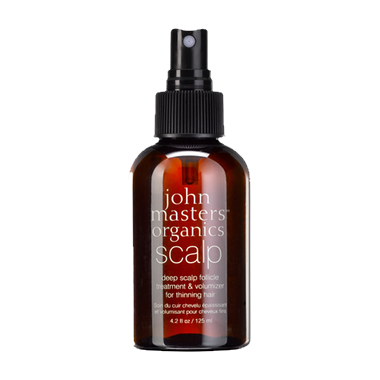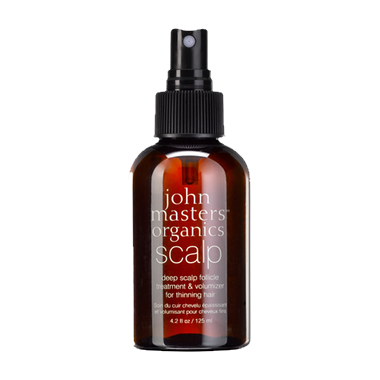 John Masters Organics Deep Scalp Follicle Treatment & Volumizer
John Masters Organics Deep Scalp Follicle Treatment & Volumizer For Thinning Hair encourages healthy hair growth from the roots out.
A unique combination of 17 certified-organic herbs and essential oils helps improve the health of the scalp by promoting nutrient intake, stimulating circulation, balancing sebum production and eliminating free radicals. Select ingredients work to enhance hair volume and shine. Safe for color-treated hair.
Features:
Stimulates blood circulation in the scalp
Promotes healthy scalp by dissolving sebum buildup in the hair root
Excellent volumizer
Eliminates free radicals
Encourages hair growth
Perfect for thinning hair
Great for adding volume to fine hair
Directions:
After shampooing and conditioning
Spray onto scalp
Massage in
Leave in
Use after every shampoo to keep scalp in optimal health
Key Ingredients:
Thyme - scalp stimulant; antiseptic
Irish moss - natural detoxifier
Arnica - healing to the scalp; anti-inflammatory
Che qian zi - reduces inflammation
Gotu kola - anti-inflammatory; anti-irritant
Ingredients:
Aqua (water), glycerin, sorbitol, panthenol (vitamin B), centillica asiatica (gotu kola) extract,* chondrus crispus (irish moss) extract,* plantago asiatica (chegian zi) extract,* arctium lappa (burdock root) extract,* hydrolyzed wheat protein, urticia dioica (nettle) extract,* yucca schidigera (yucca) extract,* hamamelis virginiana (witch hazel) distillate, arnica montana (arnica) extract,* anthemis nobilis (chamomile) extract,* hyaluronic acid, camellia sinensis (white tea) extract,* lavandula angustifolia (lavender) extract,* calendula officinalis (calendula) extract,* tocopherol acetate (vitamin E), carica papaya (papaya) extract, cucumis sativa (cucumber) extract,* soy protein, sodium benzoate, potassium sorbate, simmondsia chinensis (jojoba) oil,* triticum vulgare (wheat germ) oil,* thymus vulgaris (thyme) oil,* linum usitatissimum (flax seed) oil,* rosmarinus officinalus (rosemary) oil*

Morgan:
a few months ago
I will absolutely repurchase this product. I have fine hair that gets oily quickly. This spray clarifies the excess oil and stretches the amount of time between washes as well as adding an incredible amount of volume, while still allowing the hair to feel clean and not burdened with too much product.
Jy:
more than a year ago
I've been using it for a few weeks now, and I'm not sure if it is working. I think it is one of those things you have to use for a long time to see results, so I will continue using it. Using too much could make your hair look a little greasy, make sure to not spray on the top of your head, just on the inside
Page
1