Josh Rosebrook Balance Shampoo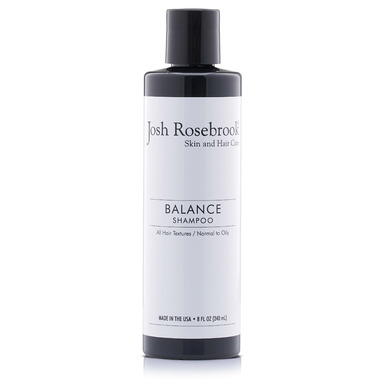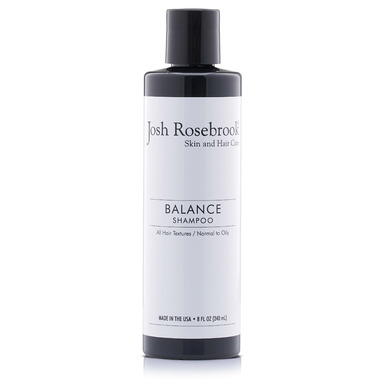 Josh Rosebrook Balance Shampoo
Josh Rosebrook Balance Shampoo is formulated to offset excessive oiliness and create volume in all hair textures with normal to oily scalps. Aloe vera, gentle natural cleansers, and advanced herbal infusions work in unique synergy to cleanse impurities and balance overly sebaceous scalp conditions for effortless volume and manageability. Rich natural plant oils and herbal actives effectively soften, add shine, treat scalp and stimulate follicle circulation to increase the flow of nourishment, encouraging strong, continuous hair growth.
Featured Ingredients:
Aloe Vera strengthens hair, softens, hydrates, and protects
African Black Soap detoxifies, gently cleanses, moisturizes hair and scalp, and calms scalp
Camelina Seed Oil moisturizes, adds shine, and strengthens hair growth
Jojoba hydrates, increases elasticity, adds shine, strengthens hair, protects and hair
Ginseng stimulates scalp and follicle circulation, encourages hair growth, and reduces thinning
Chamomile treats dandruff, treats scalp conditions, and promotes hair growth
Linden Flowers calm scalp, treat dry scalp, soothe and protect scalp
Rosemary slows growth of grey hair, treats dandruff, and increases scalp circulation
Tips
: Divide scalp into four areas - top, sides, and back. Apply a small amount to each area. Massage in thoroughly. Add more water during massage to help distribute suds if needed. Leave in 1-3 minutes, allowing micro-nutrients to stimulate follicle circulation. Rinse and repeat if necessary.
Ingredients
: *Aloe Vera Leaf Juice, Aqua, *Black Soap, Saponified Coconut Oil, *Camelina Oil, *Hemp Seed Oil, *Jojoba Oil, *Coconut Oil, *Grape Seed Oil, *Apricot Kernal Oil, *Evening Primrose Oil, *Vegetable Glycerin, *Calendula, *Nettle, *Catnip, *Alfalfa, *Rose Hips, *Flax, *Dandelion, *Rosemary leaf, *Linden flowers, *Burdock, *Horsetail, *Sage, *Chamomile, *Ginseng, *Oregano, *Thyme, *Lavender, *Peppermint, *Goldenseal, *Cinnamon, *Cayenne, §Xanthan Gum, §Potassium Sorbate, †Lavender Essential Oil, †Lemon Essential Oil, †Rose Essential Oil, †Rosemary Essential Oil, †Grapefruit Essential Oil.
*certified organic, †organic, ‡wildcrafted, §non-gmo plant sourced