Josh Rosebrook Hydrating Accelerator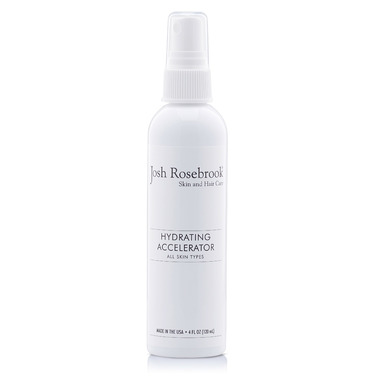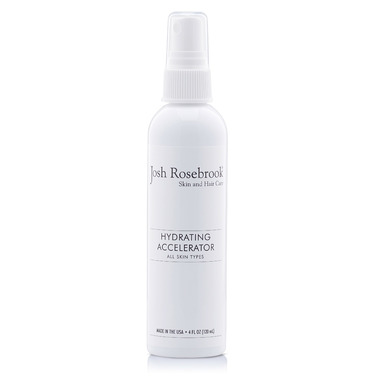 Josh Rosebrook Hydrating Accelerator
The Josh Rosebrook Hydrating Accelerator is an essential, multi-action product that hydrates, tones and delivers nutrients into the skin. Organic Vitamin-Infused Aloe Water lowers skin surface tension, naturally filling cells with aloe water to plump, firm and increase circulation. Rich antioxidants and fatty acids soften, boost skin structure, and reinforce the protective acid-mantle barrier. Herbal anti-inflammatories calm, relieve redness and help reset the skin's natural healing ability while setting up the skin to fully receive effective moisturizing and available nutrients in serums, oils, balms and creams.

Featured Ingredients:
Aloe Vera Juice calms, hydrates, treats eczema, softens, assists all skin conditions
Evening Primrose improves elasticity, moisturizes, treats rosacea, treats eczema
Rose Hips brightens, protects, hydrates, reduces fine lines
Turmeric calms, regenerates, treats eczema, treats acne, soothes, promotes healing
Licorice calms, firms, treats acne, treats psoriasis, and assists hormone balance
Fo Ti Root detoxifies, calms, soothes, and reduces redness
Tips
: The Hydrating Accelerator is the foundation of the "Layering Technique". After cleansing pat face dry. Mist three to five pumps of the Hydrating Accelerator before applying moisturizer. Use the Hydrating Accelerator before applying the face masks, such as the Josh Rosebrook Active Enzyme Exfoliator, to allow enzymes and nutrients in the mask (or any serum or cream) to travel into the skin and become locked in with moisturizers.
Ingredients
:*Aloe Vera Leaf Juice, *Jojoba Oil, †Marula Oil, *Evening Primrose Oil, *Hemp Seed Oil, *Borage Seed Oil, *Almond Oil, *Grape Seed Oil, *Sesame Oil, *Sea Buckthorn Oil, *Goji Berry, *Ashwaganda, *Calendula, *Black Cohosh, *Dandelion, *Fo Ti Root, *Alfalfa, *Bilberry, *Rosemary, *Turmeric, *Elderberry, *Raspberry Leaf, *Burdock, *Chamomile, *Rose Hips, *Eyebright, *Beetroot, *St. John's Wort, * Hawthorne Berry, *Chickweed, *Licorice, *Coriander, *Horse Chestnut, *Lavender, *Red Clover, *Olive Leaf, *Sage, *Thyme, *Vitamin E, *Guar Gum, *Gum Arabic, §XanthanGum, §PotassiumSorbate, *Vanilla Extract, †YlangYlang Essential Oil, †Rosemary Essential Oil, †Eucalyptus Essential Oil, †Bergamot Essential Oil, †Carrot Seed Essential Oil.
*certified organic, †organic