Kerasal One Step Exfoliating Moisturizer Foot Therapy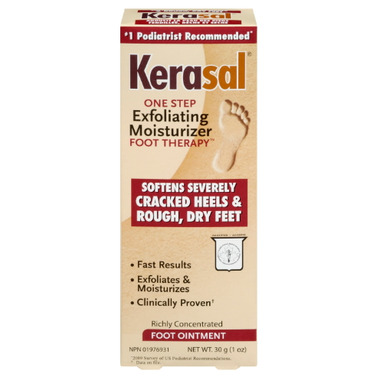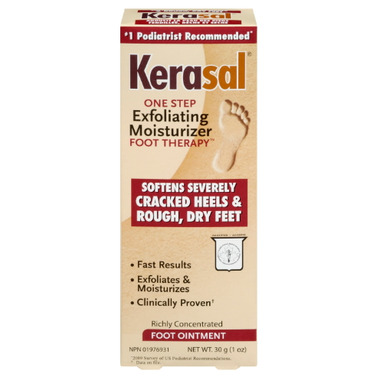 Kerasal One Step Exfoliating Moisturizer Foot Therapy
The nation's #1 selling callus treatment ointment for soft feet and controlling calluses build up, Kerasal's Moisturizing Foot Ointment is guaranteed to soften even the toughest, dry feet, cracked heels and calluses when used as directed. Kerasal's Exfoliating Moisturizing Foot Ointment for cracked heels and dry feet is a highly effective, dual action formula that both exfoliates and moisturizes in one step and is guaranteed to soften even the most severely damaged, dry feet.

Benefits:
For moderate to severely rough and cracked heels
Rehydrates, exfoliates and helps maintain moisture balance
Softens calluses and controls callus build up
Benefits seen in as little as 2-3 days.
Approved by the American Podiatric Medical Association
Directions:
To open, use pointed end on cap to puncture seal
Wash feet with cleanser and warm water and dry completely before applying
Gently massage into skin until fully absorbed (use sparingly)
For faster results, cover the skin with cotton socks after evening application
Apply daily. Regular use will protect skin and prevent cracked heels.
Benefits seen in as little as 2-3 days.
Ingredients: Main Ingredients:
Salicylic acid 5% and Urea 10%
Other Ingredients:
white petrolatum, PEG-8, glycerin, urea, PEG-40 sorbitan peroleate, salicylic acid, PEG-40, stearate, polysorbate-80
Melissa:
more than a year ago
This has been a lifesaver for my severely dry and cracked heels. I don't have any other health conditions other than extremely sore and dry heels, to the point where walking can be excruciating. I apply this nightly and then wear socks over top, and my feet are soft and the fissures and cracks completely disappear (in about a week's time). Amazing stuff!
Page
1