KitchenArt Pro Mini Adjust-A-Cup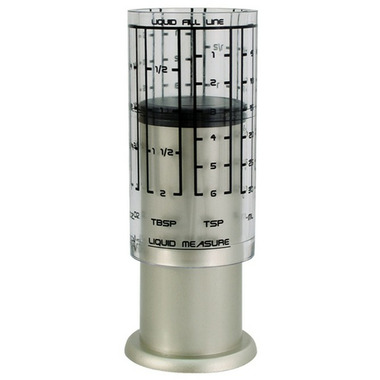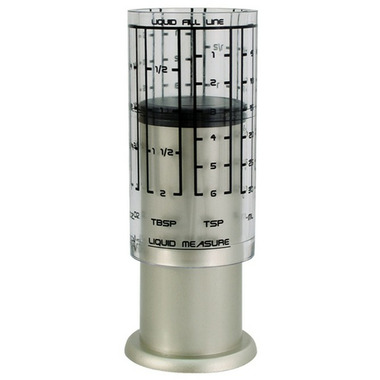 KitchenArt Pro Mini Adjust-A-Cup
KitchenArt Pro Mini Adjust-A-Cup measures metric or standard for liquids, dry and semi-solid ingredients.

KitchenArt Pro Mini Adjust-A-Cup allows you to get every bit of your important ingredients where you need them - in the bowl. Especially great for salt and other dry herbs and seasonings.

Simply pull the plunger down to the desired measurement using the clearly marked labels on the side and fill the cup with your ingredients. When you're ready to add to the recipe, simply pour the ingredients out and push the plunger to clean the sides of all food items.

Measures up to 6 tsp/2 tsb/1 oz.

Michael:
about a year ago
Saw Christopher Kimball of PBSs America's Test Kitchen demo this product on an episode of Rachel Ray. Thought it was unique and cool, searched online, found it on well.ca and bought it (actually bought the 2 cup, 1 cup and mini). Works as designed, real cool, recommend it for those people that are tired of bending over their kitchen counter to view the side of a regular measuring cup to see if they have the correct amount.
Kelly-Anne:
more than a year ago
Updating my review:
After a short time using this tool, the lines and measure markings smudged off. I re-marked the tool with permanent marker but in time, it too smudged and was unreadable.
Recently, the black top which ensures a tight fitting seal so nothing leaks, broke off and made the tool useless.
I have had no concerns with the original 2 tools of this kind (purchased from another supplier) but this one is lacking and inferior.
Kelly-Anne:
more than a year ago
Love this tool! Have the 2-cup and 1-cup measuring cups already and thought I would get this as i no longer have my measuring spoons. The fit is tight, can easily measure liquids and powders without fear of leaks. But the true genius is semi-solid measuring - butter, coconut oil, honey etc is so easy to measure accurately and know that the full amount is going into the recipe and not getting left behind on the measuring tool. Uses different volume measurements which fits any recipe.

This was my first well.ca order and I very much appreciate the care put into the shipping box - liquids were bagged separately in case of leaks, the shipping box was appropriately sized to my order, I receive a couple samples along with my order and my invoice was organised, concise and even detailed how to return anything I may wish to return. What a fantastic experience and I am already putting another order together. Thank you well.ca :)
Page
1