Kosmea
Kosmea Certified Organic Rose Hip Oil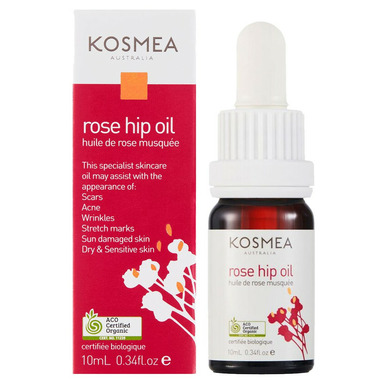 Kosmea
Kosmea Certified Organic Rose Hip Oil
Description
Certified Organic Rose Hip Oil is rich in essential fatty acids, vitamins and antioxidants, this easily-absorbed oil is a real treat for the skin. It may help smooth the appearance of wrinkles, moisturize and soothe dry skin, nourish and hydrate ageing skin and balance oily skin. This 100% Certified Organic Rose Hip oil is sourced from the Maulti Mountains of Lesotho Southern Africa where rosehips grow wild. They use both the fruit and seed of the rose hip, giving this rose hip oil a high content of the antioxidant, lycopene. The oil is extracted using a unique method called supercritical extraction. Kosmea extracts their rosehip oil without heat or solvents, keeping all the anti-ageing vitamins, essential fatty acids and antioxidants give your skin a healthy looking glow.
Tip:
Mix the oil with your foundation then apply onto your skin for a dewy, glowing look!
Usage:
To help with the appearance of fine lines, wrinkles, uneven skin tone, oily skin, dry skin, and dull and lifeless skin
- Apply 2-3 drops to slightly damp skin morning and night after cleansing and before applying your daily moisturizer. Applying to slightly damp skin will allow for the oil to absorb quicker and deeper into the skin. Applying straight after stepping out of the shower, or dampening your skin with Kosmea Hydrating Rosewater Mist works great too!
Ingredients: Rosa Canina Fruit Oil*

Kosmea's Rose Hip Oil is certified organic, ethically sourced and super critically extracted using the fruit, skin and seed.
Highlights

Ingredients