Kosmea Skin Clinic Rescue Body Cream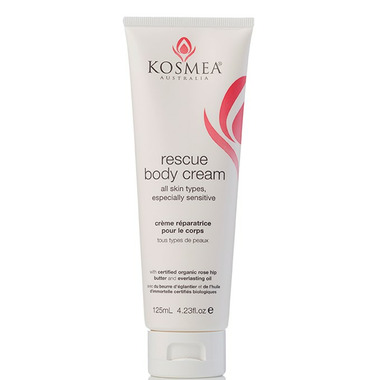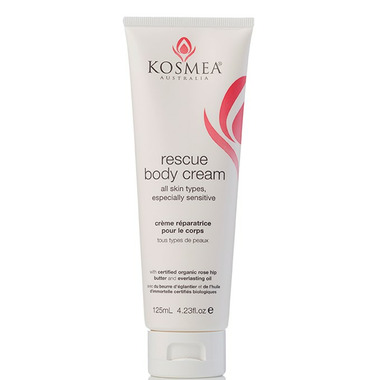 Kosmea Skin Clinic Rescue Body Cream
Indulge your skin with this rich, soothing and nourishing all-over body cream.
Formulated with premium certified organic ingredients including rose hip butter, everlasting oil and shea butter, this product is loaded with vitamins, antioxidants and essential fatty acids.
Apply this healing cream to help:
Itchy, flaky and very dry skin caused by overexposure to the elements
Reduce the appearance of stretch marks
Skin dryness and dehydration caused by sun exposure
Maintain skin elasticity during pregnancy or weight change
Loss of skin moisture due to hormonal changes and/or medical treatment
Protect the skin's natural moisture barrier
Tip:
Feeling the pain of waxing? Apply Kosmea's Skin Clinic® Rescue Body Cream after hair removal to soothe irritation and reduce redness.
Usage:
Use daily and apply liberally all over the body. Apply straight after a shower or bathing while skin is still slightly damp - or try moistening skin with a spritz of Kosmea' s Hydrating Rosewater Mist instead. Applying to damp skin helps absorption and will assist in locking moisture into the skin.
Use in combination with
Kosmea's Skin Clinic® Rescue Balm
and
Certified Organic Rose Hip Oil
to help relieve the symptoms of dry, itchy and flaky skin.

Ingredients:
Water (Aqua), Rosa Eglentaria (certified organic Rose Hip) Seed Oil*, Butyrospermum Parkii (certified organic Shea Butter), Vitis Vinifera (Grape) Seed Oil, Glycerin, Stearic Acid, Cetyl Alcohol, Glyceryl Stearate, Rosmarinus Officinalis, (Rosemary) Leaf Extract, Cetyl Esters, Glycine, Soja (Soybean) Oil, Daucus Carota Sativa, (Carrot) Root Extract, Helichrysum, Odoratissimum (Certified Organic Everlasting), Extract * , Xanthan Gum, Sodium, Hydroxymethylglycinate, Anthemis, Nobilis (Chamomile) Flower Oil, Beta Carotene, Tocopherol (Vitamin E), Potassium, Sorbate, Sodium Benzoate, Citric Acid, Farnesol.
*These ingredients are certified organic by the USDA and sourced from the Maluti Mountains of Lesotho, Africa. In this beautiful region they grow wild and are handpicked and processed by local Lesotho people, thus providing a sustainable income and livelihood.