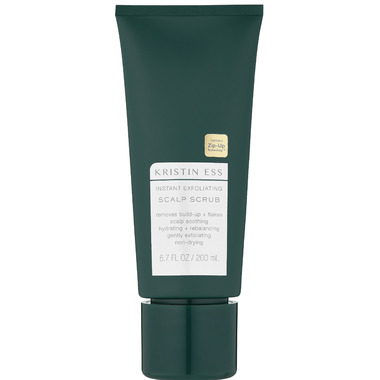 200 mL
Kristin Ess Hair Instant Exfoliating Scalp Scrub
is rated out of
5
by
12
.
---
Description
What It Is
Unique 2-in-1 shampoo that helps to detoxify, exfoliate, and balance the scalp, while cleansing and moisturizing the hair.
What It Does
Detoxifying shampoo draws impurities from the scalp and hair, while exfoliating the scalp surface to remove dead skin cells and product build-up. Helps to soothe the scalp and deliver long lasting hydration to the scalp and strands, even after rinsing.

Features:

Removes buildup
Helps to soothe itchy, flaky scalp
Hydrates the scalp to prevent dryness
Cleanses both the scalp and strands
Helps to strengthen the hair roots and shaft
Rated

5

out of

5
by
Brooke
from
This is a beautiful thick sugar scrub for your scalp. I love that there is a 'cheaper' alternative for amazing hair and scalp care. This product is VERY thick, so maybe do a test or work with it for the first time or two. I did find the first time a blob came out in one spot of my hair and was hard to spread, so now, sometimes I just put some product in my hand then spread it; but with the nozzle there are options for whatever works for you! The smell is amazing and the product even has a slight iridescence to it. Just make sure to add some water to your scalp to make it scrub and move around easily. Without water, it will be too thick to effectively move.
Date published: 2019-01-28
Rated

5

out of

5
by
Sara
from
This scalp scrub is unreal. If you follow Kristin Ess on Instagram she provides detailed instruction in how to use her products. This scrub is SUPER THICK-it's supposed to be!!! Make sure your hair is super wet, then pat *** in section as you squeeze the scrub directly into your scalp-I do a horizontal section at the back, then one at the top/middle part and then one in either side. THEN add a bit of water to those areas with your hands or poo your head under the shower head to add some moisture then scrub away. This really helped my winter dry scalp immediately. I used with with the micelles shampoo and followed with the scalp and hair mask. I highly recommend these products!
Date published: 2019-02-02
Rated

4

out of

5
by
Alyssa
from
The first time I used this I didn't really love it, didn't feel like it did anything at all. But now that I've figured out how to use it its great. I find if you wet your hair and then part it into sections and apply the scrub directly onto your scalp and then add a little more water before scrubbing it's very effective. I can use a lot less shampoo after I use this because of how much build up it removes. I should also mention the smell is gorgeous too!
Date published: 2019-03-13
Rated

5

out of

5
by
Rebekah
from
This is very thick, a little goes a long way. Instead of applying directly to my sensitive scalp and fine hair (which I find quite abrasive to scrub and rinse out), I apply it across my fingertips then scrub onto my scalp. Lovely scent and very effective exfoliation.
Date published: 2019-07-02
Rated

5

out of

5
by
Em
from
Best Scalp Scrub
Love this alternative to an expensive scalp scrub. Super easy to use - just follow the instructions and their Instagram page also has details on how to get the best results. Has made a huge difference in my hair care routine. And I will definitely be repurchasing!
Date published: 2020-08-24
Rated

1

out of

5
by
RaeB
from
Terrible execution, terrible smell!
I've tried other, pricier scalp exfoliants in the past and hoped this would be a cheaper alternative, so decided to give it a shot. I'd rather have saved the money to spend up for something that actually works. This stuff has the consistency of thick jam with sugar crystals in it - absolutely no way you're getting any onto your scalp without getting it stuck in your hair, unless your hair is extremely short. It's basically like they took a body exfoliant and put it in a bottle with a pointed tip. It's absolutely not formulated for hair. It also has SUCH a strong odor, and not a pleasant one. I'm not even normally bothered by strange-smelling products, but it smells exactly like those cedar trunks your grandmother used to have. It's overpowering and sticks around for hours after using this. I switched to using this as a foot scrub so not to waste it, but I honestly can't wait until it's gone.
Date published: 2022-06-01
Rated

5

out of

5
by
Nicole
from
Loooove the smell of this stuff - it smells like a tropical vacation as you rub it in. I struggle with build up so this helps clear everything out - once a week is all I need!
Date published: 2019-02-04
Rated

5

out of

5
by
Olivia
from
Love this product! Easy to use and very effective. Plus smells amazing!!
Date published: 2019-08-31