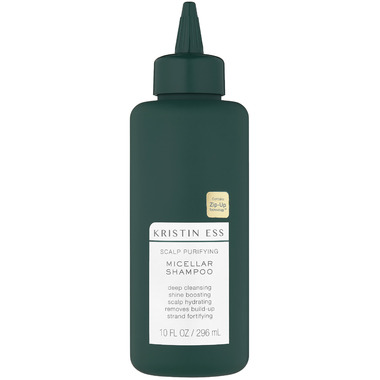 296 mL
Kristin Ess Hair Scalp Purifying Micellar Shampoo
is rated out of
5
by
23
.
---
Description
What It Is
An innovative shampoo that brings the power of Micellar into your shower for a new type of cleansing experience for your scalp and strands.
What It Does
Unlike clarifying shampoos that contain harsh ingredients and dry out strands, this powerful cleanser uses Micellar technology to gently wash away dirt, grit, product build-up and excess oils from your scalp and hair, without stripping away natural oils, drying out the scalp surface or strands, or harming your color or the integrity of your hair. Micellar Water attaches to oil and dirt particles on the hair and scalp, and draws them out like a magnet, leaving hair and scalp feeling clean and healthy with a shiny finish.

Features:

Free from sulfates, silicones or parabens
Gentle cleansing of the scalp and hair
Helps to reduce scalp dryness
Helps to prevent color fade and prolong the life of your color
Safe for every day use
Rated

5

out of

5
by
Emilu
from
Great for Seb derm
My daughter has super thick hair and seb derm on her scalp. The medicated shampoo she has to use (although necessary) leaves her scalp feeling sensitive and stripped and dries out the rest of her hair. We stumbled across this shampoo, purchased it on a whim and were pleasantly surprised. We have a cabinet full of expensive shampoos that make her scalp worse. SHE LOVES THIS gentle Scalp shampoo and alternates between it and her medicated one. It has been a long journey but we finally have her seb derm under control and a shampoo routine she can stick too. This leave her scalp clean but not stripped or dry and does not have a strong odor. Just about to re order!
Date published: 2020-07-16
Rated

5

out of

5
by
Lulu
from
Does what it says and more
I have been looking for something like this for so long and I'm so happy that well.ca carries Kristin Ess. This might be my favourite product from what I've tried so far. The shampoo really clarifies the scalp but is not harsh. It gave me added volume because it was like my hair follicles could breath again. I used to use super high end products to soothe the scalp but they weren't fixing the problem. This gets to the root of it, no pun intended. I look forward to trying more products from Kristin Ess.
Date published: 2020-04-12
Rated

5

out of

5
by
Britcorm
from
Best Hair Purchase
This is the only hair care from this brand that I have tried and liked. Scratch that: I LOVE this shampoo. I have bleached hair but can get oily roots. This shampoo is gentle for both my roots and my ends. It clarifies like no other shampoo, but leaves my hair shiny and moisturized. I struggle not to use it every day I love it so much. I keep it to once a week and it does great. It also does not stink the way her other products do. I wish she'd release more products that smell like this one.
Date published: 2021-04-04
Rated

5

out of

5
by
Beverly
from
I love this shampoo! It smells amazing but it's a less intense scent than the other Kristen Ess products, this one is more of a cedar scent. My hair feels clean and my scalp seems to stay cleaner for longer and my hair overall is less dry. Highly recommend.
Date published: 2019-04-16
Rated

5

out of

5
by
Melissa
from
Really happy with this. Love the applicator and how it makes it so easy to apply right to the scalp. Smells yum like coconut, great lather, and makes my hair super shiny.
Date published: 2019-02-10
Rated

5

out of

5
by
Katie
from
I was previously using a shampoo that still left my hair greasy no matter how much I rinsed it out. This shampoo helped after just one use! It's made my hair really soft and shiny too. Highly recommend for the price point.
Date published: 2019-05-26
Rated

5

out of

5
by
Christy
from
Love it! A mild lather that's super gentle on your scalp and doesn't dry out my hair!
Date published: 2019-02-05
Rated

5

out of

5
by
Jessica
from
I love this shampoo. It suggests that you use it between other shampoos, but I have used it several in a row and it's really helping to deal with the buildup I have. It smells amazing too! I'll repurchase this product when I run out.
Date published: 2019-07-09