Lafes
Lafe's Natural Crystal Deodorant Stick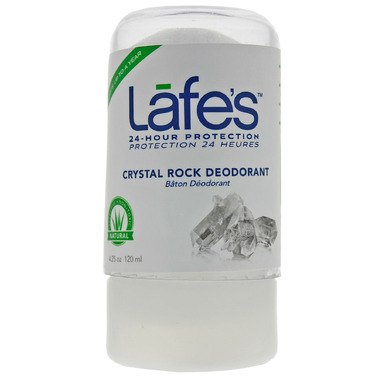 Lafes
Lafe's Natural Crystal Deodorant Stick
4.25 oz
Lafe's Natural Crystal Deodorant Stick
is rated out of
5
by
13
.
---
Description
Lafe's Crystal Rock Deodorant Stick offers 24 hour deodorant protection made with natural mineral salts that eliminate odor-causing bacteria. Convenient package makes using a crystal deodorant easy and protects the crystal from breakage.
Features:

Non-staining

Fragrance free
Hypoallergenic
Not tested on animals

Mineral salts eliminate odor-causing bacteria
No white residue
Aluminum Chlorhydrate Free
Ingredients
: Potassium Alum (Natural Mineral Salts)
Highlights

Rated

1

out of

5
by
Priscilla and Tom
from
I wrote below that my husband Tom and I bought this and really liked it. Well that's no longer the case. It started off well but within a month we had cracked extremely painful skin under our arms. I couldn't get rid of this with prescription cream or anything. I have to change products entirely. My husband healed and continues to use it, but we're not very happy with the fact it hurt both of us for several months and our only option was to discontinue use or buy another product. Don't buy this if you don't want to have PAIN and throw your money away. It's especially harsh on sensitive skin types. I think that's why I can't use it but my husband can now....
Date published: 2011-02-02
Rated

5

out of

5
by
Holly
from
My Husband and I love this deodorant! If used properly it works even better than conventional deodorants. The fact that it has no fragrance and is all natural is awesome. In order to get the best results I would suggest using it immediately after bathing, and when using it for the first time you may need to use it for several days straight for it to work properly. And last but not least, this little stick lasts for a really long time, especially if you use it properly. I can usually get 7-8 months out of one stick!
Date published: 2010-06-30
Rated

5

out of

5
by
Lucy
from
I have used Lafe's Natural Crystal Deodorant in the past and will continue to use it forever. I could not find it anywhere anymore until I found it at well.ca. It works and is safe and gentle on the delicate underarm skin. Now, with the efficiency and speed at which I am able to obtain it from well.ca, I will never be without this product again. Thank you well.ca!
Date published: 2012-05-08
Rated

5

out of

5
by
Donna
from
I have used this product well over a month now and so far, so good with no skin irritation. I don't notice any underarm odour even when I perspire a lot at the gym. I'm very pleased with this product and will continue to use unless I develop irritation. Best part: natural and no aluminum!
Date published: 2011-10-04
Rated

1

out of

5
by
Elaine
from
Due to severe allergies, I have to buy fragrance free products. Unfortunately, this one was NOT one I would buy again. I threw it out. I tried it for about a week and it provided no protection at all and I don't like the fact that you have to wet this "stone" to use it.
Date published: 2013-12-31
Rated

4

out of

5
by
Yvette
from
Great product! I have tried various natural deodorants, and this is my favourite so far. I especially love that it is non-staining, so my clothes don't end up with the whitish or oily residue that other deodorants leave behind.
Date published: 2018-08-21
Rated

5

out of

5
by
Michelle
from
I am a heavy sweater, so I use this in combination with Drysol. I found the Lafes nearly eliminated the odour I was experiencing at the end of the day, that the Drysol was leaving behind. Plus, I love that it's natural.
Date published: 2012-09-26
Rated

5

out of

5
by
Nick
from
I have been using this product for years, it is odourless and easy to use. The stick is long lasting, and you probably could get about six months to a stick. Excellent product.
Date published: 2015-06-24