LaVigne Natural Skincare Mayan Magic Lite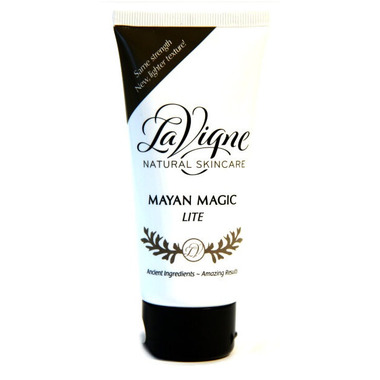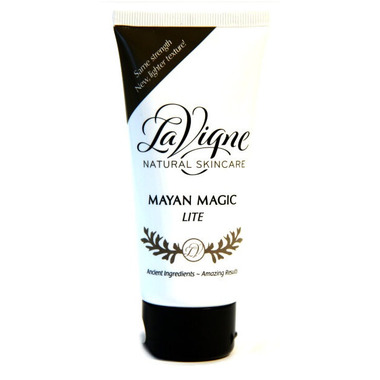 LaVigne Natural Skincare Mayan Magic Lite
Enjoy the natural hydrating properties of their popular Mayan Magic Balm in an ultra-lightweight formula. Mayan Magic Lite contains 20% Tepezcohuite, an ancient, indigenous, healing skin tree extract, responsibly sourced from Mexico. Shea Butter, Tepezcohuite and Vegetable Based Emollients work together to nourish, comfort and rescue, dry, damaged skin.

Benefits:
All the healing power of Tepezcohuite contained in our Mayan Magic Balm.
Light texture makes Mayan Magic Lite easy to spread on tender/sensitive areas.
Lightweight tube packaging – great for throwing into your bag.
Use to Treat:
Cystic/Hormonal Acne
Burns
Cold sores
Cracked Heels
Damaged Cuticles
Dry, Damaged Skin
Eczema
Dermatitis
Psoriasis
Rosacea
Infected Sores
Ingrown Hairs & Razor Burn
Keratosis
Poison Ivy/Oak
Post-Chemotherapy
Rashes
Scars
Shingles
Chicken Pox
Stretch marks
Sunburns
Superficial Cuts
Tattoo After Care
Athlete's Foot
Ringworm

Dosage:
Apply to face and body as desired. Avoid direct contact with eyes.
Ingredients: Purified Aqua, Butyrospermum Parkii (Shea Butter), Mimosa Tenuiflora Bark (Tepezcohuite) Extract, Emulsifying (Vegetable) Wax [Arachidyl Alcohol (and) Behenyl Alcohol (and) Arachidyl Glucoside], Cetearyl Glucoside, Sodium Hydroxide, Glyceryl Caprylate (and) Glyceryl Undecylenate.
Vegan & Cruelty Free, Gluten Free, Soy Free, No Synthetic Dyes, Scents Or Chemicals, No Parabens, No Lanolin, Fragrance Free

Professionally Formulated With The Best Of Science And Nature And The Highest Quality Plant Based Ingredients In Vancouver, Bc, Canada