Lavilin Foot Repair Emulsion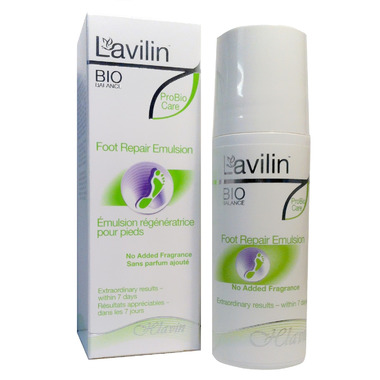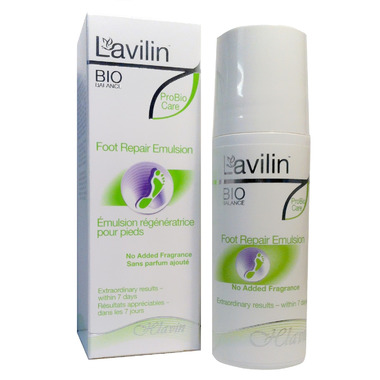 Lavilin Foot Repair Emulsion
Surprising results within 7 days!
Lavilin Foot Repair Emulsion actively removes hard, dry skin. It supports cell regeneration and helps repair cracks and fissures.
Features:
Based on Pine Sylvestris Extract, a natural therapeutic ingredient
Anti-inflammatory
Exfoliates, disinfects, hydrates and nourishes
Prevents foot irritations with long-lasting results
Excellent for Diabetics
Product Ingredients
: Deionized Water, Glycerin, Urea, Lactic Acid, Glycolic Acid, Citric Acid, Malic Acid, Salicylic Acid, Pinus Sylvestris Leaf Extract, Aloe Barbadensis Leaf Extract, Tocopheryl Acetate, Ethylhexylglycerin, Phenoxyethanol, Calendula Officinalis Flower Extract, Arnica Montana Flower Extract, Retinyl Palmitate, Lactose, Milk Protein, Bifida Ferment Lysate, Arachidonic Acid & Linoleic Acid & Linolenic Acid & Polysorbate 20.

Carol:
more than a year ago
This is one of the very few products in the world that actually has done what it's supposed to do! I gave this to my mom for her birthday because she was always complaining about her terribly dry feet, so dry they where cracking. So i gave this to her and she started seeing results after about a week- 2 weeks, and now her feet are quite smooth, and I haven't heard her complaining about her feet in a long time! the only thing is you have to do this every night RELIGIOUSLY which means it isn't fixing the cause of the problem its just superficially showing results.
But this is still definitely a must have!
Page
1