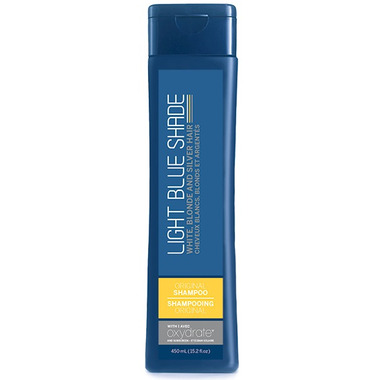 450 mL
Light Blue Shade Original Shampoo
is rated out of
5
by
14
.
---
Description
Product Benefits:
Provides moisture and essential nourishment to hair to help increase shine and manageability.
Formulated with a sophisticated hydro-soft formula, silk proteins and pro-vitamin B5 and collagen.
Intensifies shine of white, silver and blond hair.
Eliminates yellow and brassy highlights
Enhances coloured hair and highlights
Not tested on animals
Rated

4

out of

5
by
Laurie
from
I adore this product. I've decided to let my hair gray naturally, and this shampoo gives the white/grey at my face a nice pop of shine! It rinses out fully without leaving that heavy feeling that some shampoos leave behind. Only downside is that you have to be careful about using and storing this product. If spill any shampoo and don't immediately clean it up, a purpley-blue stain might mark your shower curtain or shelf and it won't come out easily! This is not an everyday product - use once or twice a week for a great whiter than white pop of shine.
Date published: 2012-03-15
Rated

1

out of

5
by
val
from
It sucks. It only works on white or extremely bleached hair (makes it whiter). I have a few very white highlights but it does nothing to the less bleached parts....which are the brassy parts.... no to mention it makes the white parts whiter so they stand out even more from the yellow /orange brassy parts.
Date published: 2018-04-12
Rated

4

out of

5
by
JA
from
I use this every 4th or 5th shampoo just to keep white hair white. Does this nicely and I like the scent. Bought it once at drugstore and can never find it in stock now so online shopping better.
Date published: 2017-02-20
Rated

5

out of

5
by
Wendy
from
Love this Shampoo and Conditioner. I am unable to find it in the stores anymore and was thrilled to see Well.ca carried it. Ordering online is so simple and delivery is always speedy with Well.ca
Date published: 2017-11-03
Rated

1

out of

5
by
Angela
from
I have silver hair with some warm tones. Not only did this shampoo not help brighten my hair in any way, it gave a greenish hue to my warmer strands. Not recommended.
Date published: 2018-04-24
Rated

3

out of

5
by
Maxx
from
Works well for cutting down on hair yellowing however whatever the formulation is in this gives me really bad dandruff so I can't use it.
Date published: 2015-03-24
Rated

5

out of

5
by
Rachelle
from
Great shampoo when you have highlights. The blond highlights stay blond and do not become brassy. And Well.ca have such quick delivery.
Date published: 2017-11-29
Rated

3

out of

5
by
Karen
from
Pretty good. Not sure that I will get it again. My hair is just salt and pepper, so there may not be enough gray to see any difference.
Date published: 2013-04-29