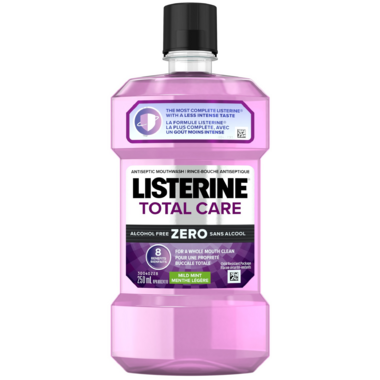 250 mL
Listerine Total Care Zero
is rated out of
5
by
188
.
---
Description
Clean and protect for a whole mouth clean with LISTERINE TOTAL CARE ZERO Antiseptic Mouthwash, Mild Mint. It provides the same eight benefits as LISTERINE TOTAL CARE ZERO Antiseptic Mouthwash, but in a less intense tasting alcohol-free formula. The formula kills up to 99.9 percent of germs, prevents and reduces plaque and gingivitis, prevents cavities, reduces tartar build-up, strengthens tooth enamel, helps keep teeth white, and provides up to 12 hours of bad breath protection. LISTERINE TOTAL CARE ZERO Anticavity Mouthwash is recognized by the Canadian Dental Association (CDA) for helping reduce and prevent gingivitis and preventing cavities.
Features:
Kills up to 99.9% of germs and keeps breath fresh
Prevents and reduces plaque, gingivitis, and cavities
Strengthens tooth enamel
Reduces tartar build-up and helps keep teeth white
Less intense taste
Zero alcohol
Dosage:
Adults and children 12 years and older: Use after brushing the teeth with toothpaste. Rinse full strength with 20 millilitres for 30 seconds twice a day. Do not swallow. Do not eat or drink for 30 minutes after use.
Active Ingredients:
Eucalyptol 0.091% (w/v), thymol 0.063% (w/v), menthol 0.042% (w/v), sodium fluoride 0.022% (w/v), zinc chloride 0.09% (w/v).
Non-Active Ingredients:
Benzoic acid, Blue 1, Red 40, flavour, methyl salicylate, poloxamer 407, propylene glycol, sodium benzoate, sodium lauryl sulfate, sodium saccharin, sorbitol, sucralose, water (eau).
Caution:
Keep out of reach of children. Not to be used by children under 12 years of age. In case of accidental ingestion, contact a Poison Control Centre or doctor immediately. Security feature: Do not use if security band around cap is missing or broken. Note: Store between 15°C and 30°C. Cold temperatures may cloud this product. Is efficacy will not be affected. There is only one LISTERINE. The makers of LISTERINE do not manufacture mouthwash for any other brand or company. Child Resistant Package.
Rated

1

out of

5
by
ZSchaf
from
READ IF SKIN IS PEELING OFF AFTER USE
(This review was collected as part of a promotion.) Apparently, if you use the purple Listerine and your mouth gets super dry and skin starts to fall off in your mouth... it means you're allergic!! The product is probably fine and sorry to give this a 1 star, but most people check the lowest ratings and I want to inform those with similar experiences to STOP using it. (My dentist told me this in my last visit when they gave me this stuff to rinse with).
Date published: 2022-07-02
Rated

5

out of

5
by
cins
from
Excellent mouth wash
Listerine Total Care has worked for me and had helped protect my teeth and gums from cavities and gingivitis and better yet is alcohol free
Date published: 2018-07-22
Rated

5

out of

5
by
1kitkat
from
*Listerine Zero* - fresh!
(This review was collected as part of a promotion.) Your smile is the first thing people notice. Listerine Zero is a great product! I love it and look forward to an invigorating rinse twice daily. My breath is much fresher for an extended period of time, my gums look and feel healthier, my smile is brighter and I have a skip in my step, starting and ending my day with this invigorating rinse, with zero alcohol. I highly recommend Listerine Zero for daily oral care. Try it! Take control and improve your overall health. Listerine zero has made all the difference for me...I can't live without it!
Date published: 2014-03-19
Rated

3

out of

5
by
Alfred9090
from
Would be better without SLS
Seems to cause some irritation in my mouth. I suspect this has to do with the Sodium Lauryl Sulfate as an ingredient. Can Listerine create a product than contains no alcohol, SLS, or other irritating ingredients?
Date published: 2020-01-18
Rated

5

out of

5
by
Sysy
from
The best I've used so far
(This review was collected as part of a promotion.) I've been using the same one for two years now. Doesn't burn, mouth is cleaner. It is part of my dental care routine.
Date published: 2021-10-26
Rated

1

out of

5
by
AsabiO
from
White slime in mouth after using
(This review was collected as part of a promotion.) This is version is different from the regular original Listerine. I decided to try this one without alcohol and every morning I wake up after using at night, there is thick white slime in mouth. Appears to be peeling skin in my mouth. The other versions never did that. Because of this, I do not recommend this product.
Date published: 2022-05-18
Rated

5

out of

5
by
tazpc
from
Great option!
I can't use alcohol based listerines because of medications i take, this isn't too minty and is perfect to use.
Date published: 2018-07-04
Rated

5

out of

5
by
Anglewings
from
Listerene works every time.
(This review was collected as part of a promotion.) I use Listerene Zero twice a day ,after brushing,I must say it is fantastic Mouth Wash.It works to proyect my teeth against cavities and for the prevention of Gingervitis.Some of listerene peoducts contain Alcohol while some don't.I have tried them both and found them to be equally effective.Listerene Zero keeps my breath feeling fresh for hours which gives my mouth that fresh clean taste,as If I had just brushed.I would recommend this product to anyone ,especially anyone who is serious about taking care of their teeth.
Date published: 2014-02-25