Living Libations
Living Libations Best Skin Ever Seabuckthorn Face and Body Oil Cleanser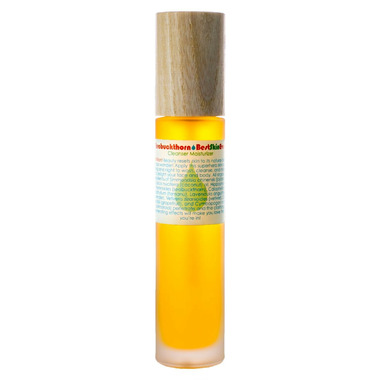 Living Libations
Living Libations Best Skin Ever Seabuckthorn Face and Body Oil Cleanser
50 mL
Living Libations Best Skin Ever Seabuckthorn Face and Body Oil Cleanser
is rated out of
5
by
47
.
---
Description
Living Libations Best Skin Ever Seabuckthorn is an all-in-one cleanser, exfoliator, and moisturizer. This skin elixir is packed with omega fatty acids, vitamins, lipids, and hundreds of bioactive compounds.

Directions for Washing/Cleansing your Face with Best Skin Ever :

1. Wet a small portion of a cloth with water.

2. Apply one to two squirts of any of the Best Skin Evers (Seabuckthorn, Sandalwood, Rose, Frankincense, or Neroli), to the dampened portion of the face cloth.

3. Gently massage the face, neck and back of the neck with the moistened cloth. Wash gently or wash vigorously for a deeper exfoliating effect. Rinsing the face is optional
Highlights

Ingredients
Hippophae rhamnoides (Seabuckthorn), Simmondsia chinensis (Jojoba), Cocos nucifera (Virgin Coconut) Oil, Calophyllum inophyllum (Tamanu) Oil, Lavandula angustifolia (Lavender), Chrysopogon zizanioides (Vetiver), Citrus paradise (Grapefruit), and Cymbopogon martini (Palmarosa).
Rated

5

out of

5
by
mamapow
from
Life-changing
I've suffered with oily, acne-prone skin since puberty (for decades). Always thinking I needed to avoid oil-based products, but nothing worked. An aesthetician recommended this to me a few years ago and it has been life-changing. It is the only product I use on my face - for cleansing and moisturizing. I have not had one break-out in three years, barely even a pimple. My skin is healthier, much less oily, and I feel so much better. This combined with not feeling like I need to wear concealer and makeup to cover up blemishes means my skin is the healthiest it's likely ever been. Living Libations is the absolute best!
Date published: 2021-08-12
Rated

5

out of

5
by
Melissa
from
I am on my 3rd bottle and will not use anything else anymore. I am in my early 40s and started to experience acne prone skin. I learned that my skin was dehydrated. This Living Libations Seabuckthorn cleanser as changed my skin sooo much! I use it as a morning cleanser and nighttime mask and moisturizer. I highly recommend it to anyone with acne prone dry mature skin!!! 👌
Date published: 2019-05-17
Rated

5

out of

5
by
Elle
from
Amazing for acne prone skin
I have had combination skin, cystic hormal acne and I have tried many facial oils. This one actually absorbs into the skin and smells wonderful. My scars have lightened up and my cystic acne is pretty much gone. I use this with the dew dab as well (please note i also use prescription benzol peroxide with adalapene in the evening and put the seabuckthorn oil on top). Works well for me. This has not broken me out and I believe has helped healed my skin and the dryness from the prescription. Hopefully i will not need the prescription anymore.
Date published: 2021-03-01
Rated

4

out of

5
by
Emma
from
I'm a big fan of Living Libations and their oil cleansers. Right now, I don't use it to its full potential, I simply use it to remove my makeup because I have a cleanser that I like to use. I find that it makes my skin feel nourished and it removes makeup like a breeze. But for the price, I'll probably just keep using my sweet almond oil. Overall, if you are looking for a true oil cleanser, I'd definitely recommend this one, but if you are looking for something to remove your makeup there are cheaper (and just as effective) options.
Date published: 2018-08-30
Rated

5

out of

5
by
Stephanie
from
Love it!
I've been using this cleanser for the past 2 years. I massage 4-5 drops onto my face and neck for 2 min. I then use a warm cloth to steam my face and to blot away the oil. It leaves your skin smooth and hydrated. It also works extremely well at removing makeup with ease and removes mineral sunscreen as well. Definitely recommend if you want to try an oil cleanser. I also have acne and using it hasn't increased my acne. I also follow with another gentle cleanser afterwards and the results are amazing.
Date published: 2020-05-19
Rated

5

out of

5
by
ItsMaya
from
My Reason For Clear Skin!!
This is a saviour in a bottle! This oil cleanser has completely changed my skin - for the better! I have acne prone, oily skin, and I can honestly say that oil cleansing with this is the reason I have clear skin now! I absolute adore this cleanser. It's gentle on the skin, doesn't leave an oily residue, and gets completely absorbed! It can be used as a moisturizer or a cleanser, and you will see results!
Date published: 2020-05-05
Rated

1

out of

5
by
AJ
from
This product may not work for you if you have sensitive skin. There are some great reviews but this may be misleading, as everyone has different results. This product is very strong and potent and smells very strong. I was told by the company to try it on my body if my face reacted but it is such a harsh product for my body as well. I broke out into a terrible itchy rash.
Date published: 2020-01-02
Rated

1

out of

5
by
Lynn
from
Strong smell
This product has a lot of fragrance and irritated my skin. I tried it a few times but the same problem every time.
Date published: 2020-06-21