Living Libations Open Sky Eye Serum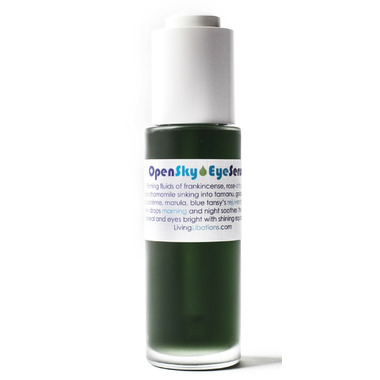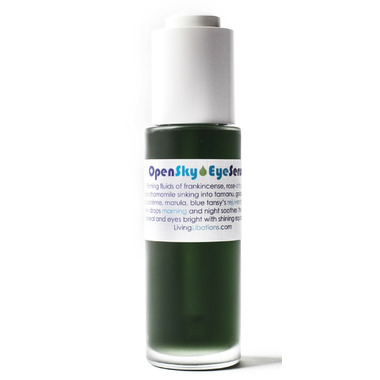 Living Libations Open Sky Eye Serum
Is the skin around your eyes crying out for some quick TLC? Whether you were out late on a delectable date, have an early morning roll call, or need a soothing infusion before your next Instagram, this firming, toning, revivifying blend will have your eyes sparkling once again!
Benefits:

Rejuvenating serum for tired eyes, puffy skin, dark circles, and fine lines
Fortifies, freshens, and tones delicate under-eye skin
Pure plant botanicals create a super saturation of organic hydration
Directions: Use the dropper to apply a luscious drop to your palm. Using your fingertips, gently pat the serum around the eye. Super for solo use or apply with deeply hydrating All Seeing Eye Cream. Smooth over face and neck to reap the cooling botanical benefits of beautiful. Excellent under makeup.
Ingredients: Simmondsia chinensis (Jojoba), Cocos nucifera (Virgin Coconut), Boswellia carterii (Frankincense), Rosa Damascena (Rose Otto), Mentha piperita (Peppermint), Tanacetum annuum (Tansy), Eriocephalus punctulatus (Cape Chamomile), Matricaria chamomilla (German Chamomile), Lavandula angustifolia (Lavender), and Thymus vulgaris linalool (Sweet Thyme).
Natural, Organic, Vegan, Gluten Free, Fair Trade, Non-GMO, Peanut Free Facility, Peanut Free Product.