Living Libations Seabuckthorn Shampoo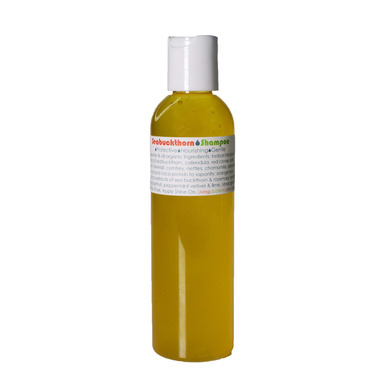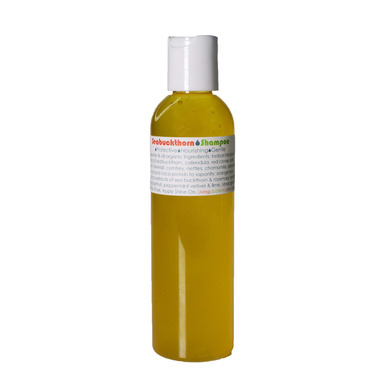 Living Libations Seabuckthorn Shampoo
Undress your tresses from chemical duress with a tried and true herbal infusion that benefits all hair types. The Living Libations Seabuckthorn Shampoo will glorify your luscious locks and is also beautiful for babies and children as a bubble bath or body wash too!
Benefits:

May be diluted and used as a body wash
Mild formula
Use as a bubble bath
Safe for babies and children
Safe for color treated Hair.
Directions: Massage a small amount into wet hair, adding water as necessary to create lather. Rinse and follow with Shine On Hair Conditioner. May be diluted further to use as a body wash or bubble bath.
Ingredients: Spring Water, Simmondsia chinensis (Jojoba) Oil, Hippophae rhamnoides (Seabuckthorn Berry), Cocos nucifera (Coco-Protein), Yucca elata (Yucca), Fucus vesiculosus (Bladderwrack Seaweed), Citrus aurantium dulcis (Orange Wax), Calendula officinalis (Calendula), Trifolium pretense (Red Clover), Avena sativa (Oatstraw), Equisetum arvense (Horsetail), Tussilago farfara (Coltsfoot), Symphtum officinalis (Comfrey), Urtica dioica (Stinging Nettles), Anthem noblis (Chamomile), Citrus paradisi (Grapefruit), Mentha piperita (Peppermint), Vetiveria zizanioides (Vetiver), Citrus aurantifolia (Lime), and Rosmarinus officinalis and Salvia officinalis (Rosemary and Sage) CO2 Extracts.
Natural, Organic, Vegan, Gluten Free, Fair Trade, Non-GMO, Peanut Free Facility, Peanut Free Product.