Lotus Foods
Lotus Fine Foods Coconut & Cherry Quinoa Granola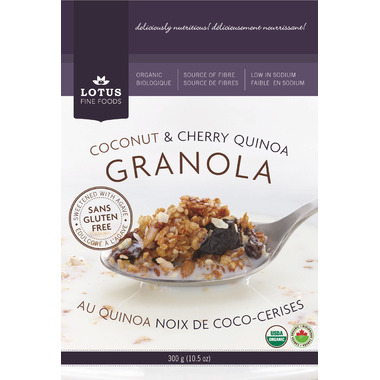 Lotus Foods
Lotus Fine Foods Coconut & Cherry Quinoa Granola
Description
When Coconut and Cherry met, they knew it was love at first sight. No one thought it would last, but these two fresh ingredients are still going strong. That's because they are the perfect complement to each other. Nutty coconut brings out the best in tart cherry, and both bring great qualities to the table. Coconut offers a saturated fat that actually does your body good, while cherries boast high levels of disease-fighting antioxidants. They come together in this quinoa granola to boost your breakfast and tempt your taste buds.
Features:
Organic
Source of Fibre
Low in Sodium
Vegan

Sweetened with Agave
Ingredients:
Quinoa, sesame seeds, sunflower seeds, flax seeds, agave nectar, sunflower oil, apple juice sweetened cherries, raisins, coconut.
Highlights