Love To Dream Swaddle Up Original Grey
Love To Dream Swaddle Up Original Grey
is rated out of
5
by
5
.
The Swaddle UP™ is the only zip-up swaddle available that allows your baby to sleep in the arms UP position. The Swaddle UP™ requires no complicated wrapping, so everyone can swaddle right every time. Need more sleep? Swaddle UP!
Why arms up?
It is your baby's natural sleep position that allows your baby access to their hands for self-soothing. Babies often use their hands to settle themselves to sleep, by sucking on their fingers or gently rubbing their cheeks. Medical research suggests that babies sleep better, & for longer, if they are able to self-soothe.
Features:
Snug fit makes your baby feel secure & helps to calm their natural startle reflex
Eliminates excess loose fabric in the crib
Wings prevent face-scratching
May reduce the risk of your baby accidentally rolling onto their tummy
Genius two-way zipper for easy diaper changes
Hip-healthy design allows hips and legs to flex naturally
Materials: 93% Cotton, 7% Elastane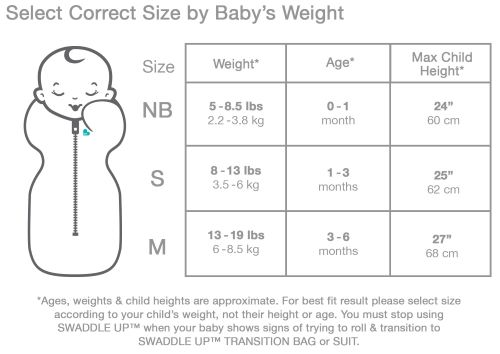 Rated

5

out of

5
by
Kennedyfamily
from
We love it! Have used it right from hospital.
Our little guy loves it so much we are buying more. He finds it really soothing being able to have his hands up but still being snuggled. Tried it right out of the hospital when he couldn't seem to get comfortable. Would highly recommend.
Date published: 2020-02-24
Rated

5

out of

5
by
Mmducki3
from
Quality is great
I'm excited to use this when baby arrives. If she is anything like her older sister, we will need this type of swaddle. Will review again in a couple of months when baby arrives.
Date published: 2020-08-14
Rated

5

out of

5
by
Kali
from
Love this
I used these for both my babies. Some people might think that it's a little pricey but trust me momma $40 is worth a good night sleep.
Date published: 2020-09-25
Rated

5

out of

5
by
MelMel
from
Great for babies who want to sleep with arms up!
My baby wanted to be swaddled tightly but didn't like arms to be down. So this is a great option and he loved it!
Date published: 2020-01-28
Rated

5

out of

5
by
Dominique4
from
Best purchase for better sleep :)
Perfect swaddle bag for baby who loves having his hands close to his face.
Date published: 2020-08-03