Marinoe Seaweed Chips Spirulina Wasabi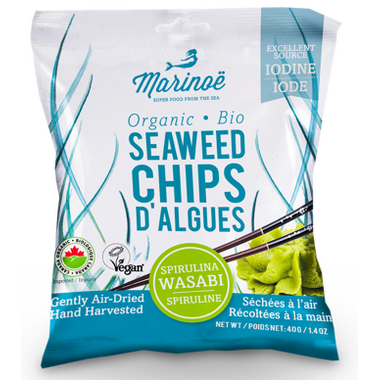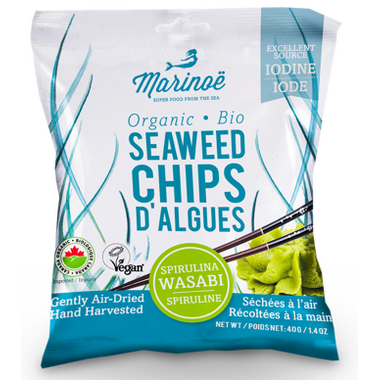 Marinoe Seaweed Chips Spirulina Wasabi
At Marinoë, they look to the sea for nourishing and delicious food. Using innovation and expertise, we handcraft these gourmet seaweed chips from fresh, quality ingredients. They start with organic seaweed grown off the coast of Brittany, France, and harvest it by hand. They add carefully selected, flavourful organic ingredients, then gently air-dry the chips to crispy perfection!
Excellent Source of:High Source of:Source of:
Zinc
Phosphorus
Calcium
Omega-6
Polyunsaturated Fatty Acids
Potassium
Ingredients: Sea spaghetti* (Himanthalia elongata), sesame Seeds*, cashew nuts*, horseradish*, tamari* (water, soya*, salt, alcohol*, ferment), onion*, cane
sugar*, lemon juice*, chia seeds* (Salvia hispanica), spirulina, wasabi*, cayenne pepper*. *Certified Organic.