Mate Factor
Mate Factor Yerba Mate Organic Green Tea Ginseng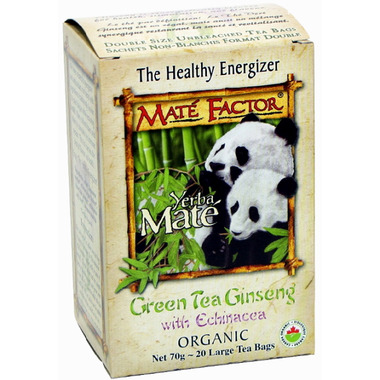 Mate Factor
Mate Factor Yerba Mate Organic Green Tea Ginseng
Description
In South America, Yerba Mate tea is a symbol of the vitality, strength and brotherhood of an ancient culture. Traditionally steeped in a hollowed out gourd, this tea is regarded as a healthy beverage for young and old, and is more popular than coffee. Can be enjoyed hot or cold for that extra boost throughout your day.

Green Tea Ginseng is a synergistic and antioxidant rich blend with ingredients traditionally known to ease fatigue. For geerations, many cultures have benefiited from utilizing the qualities of echinacea and ginseng.
Ingredients:
Fresh Green Yerba Mate, Sencha Green Tea, American Ginseng, Echinacea Angustifolia Root, Matcha.
Highlights

Shipping & Returns