Merrithew
Merrithew Eco-Deluxe Mat Blue/Black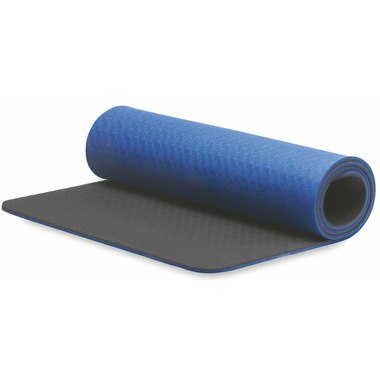 Merrithew
Merrithew Eco-Deluxe Mat Blue/Black
Description
Protect your spine, joints and bones with the extra cushioning needed for the most demanding Pilates, Yoga, and floor based routines. This exclusive 10mm thick professional quality mat is 61cm (24") wide and 173cm (68") long is made from 100% recyclable, eco-friendly TPE foam free from all phthalates.
The Merrithew Eco-Deluxe mats have excellent tear strength and feature a non-slip surface meaning better traction for your hardest inversions and extended poses. This durable blue and black mat and comes with a portable black carry strap and a BONUS downloadable Exercise Guide.
Features:
100% TPE (Thermal Plastic Elastomer) Foam
Environmentally friendly
Nontoxic, phthalate & latex free
Durable with excellent tear strength
Portable black carry strap
Downloadable Exercise Guide
Care & Cleaning:
Store in a dry location way from direct sunlight. Do not store anything on top of the mat as it may cause permanent indentations. Do not apply adhesive tape to the surface. Keep away from direct heat. Never use corrosive cleaning products on mat. Be sure mat is dry before rolling up for storage. If necessary, clean using a spray bottle with water and add 20-30 drops of tea tree oil. Spray the mat and wipe with a clean cloth. Let it air dry unrolled. Or wipe the mat with cloth dipped in soap suds or laundry power solution. Rinse with water and wipe dry with towel or cloth.
Highlights