Meta Appetite Control Orange Zest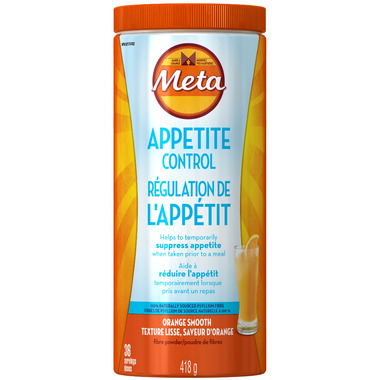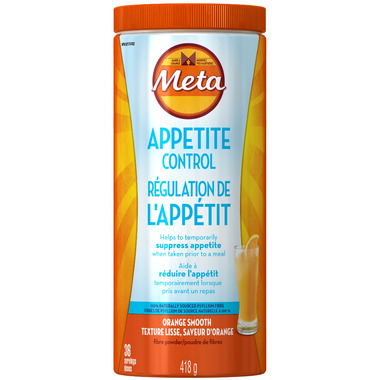 Meta Appetite Control Orange Zest
- We're sorry, this product is no longer available!
- Shop for other products in: Fibre & Laxatives

Meta Appetite Control contains 100% psyllium fiber, which naturally works with your body, is great-tasting and will help you feel less hungry between meals and control cravings. Psyllium is a natural fiber ingredient originating from Plantago ovata. The psyllium in Meta Appetite Control works by forming a gel in your digestive system, which aids in the sensation of fullness.

Ingredients: Psyllium husk

Non-Medicinal Ingredients: maltodextrin, citric acid, natural and artificial orange flavor, aspartame, Yellow 6

Dosage (12 years and over): Put two rounded teaspoons into an empty glass and mix with 8 or more ounces of water or other cool liquid. More water equals lighter flavor. Stir briskly and drink promptly. Take with meals up to 3 times daily.New users should begin with 1 serving perday as the body adjusts.

Cautions: Mix this product with at least 8 oz (a full glass) of liquid. Taking without enough liquid may cause choking. Do not take if you have difficulty swallowing.

Allergy alert: This product may cause allergic reactions in people sensitive to inhaled or ingested psyllium.

Contact your doctor BEFORE USING this dietary supplement if you have recently experienced a sudden change in bowel habits persisting for 2 weeks, abdominal pain, nausea or vomiting. STOP USING this dietary supplement and ask a doctor if constipation lasts more than 7 days or rectal bleeding occurs. These may be signs of a serious condition.