Method All-Purpose Cleaning Wipes Lime + Sea Salt
Method All-Purpose Cleaning Wipes Lime + Sea Salt
is rated out of
5
by
10
.
Grease + grime don't stand a chance. Not with the strength of powergreen technology on your side. Each compostable* wipe, in all its non-toxic glory, packs a powerful cleaning punch with naturally derived ingredients. Cleaners made with corn + coconut whisk away spills + splatters with ease, leaving nothing behind but the pleasant smell of victory. *Suitable for municipal composting facilities, not backyard composting
Features:

Contains 70 all-purpose cleaning wet wipes
Canister made of 70% PCR (post-consumer plastic) and is 100% recyclable - use them anywhere!
Non-toxic, naturally derived cleaners are suitable for most non-porous surfaces and ultra-easy to use
Biodegradable, plant-based formula works hard on your surfaces
Made from 100% wood-based fibers, so you can toss them straight in the compost bin
To use: Pull. Wipe. Admire. Suitable for most non-porous surfaces.
Test in an inconspicuous place first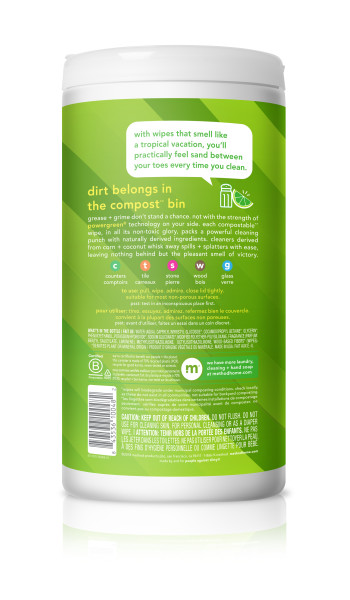 Similar Cloths, Wipes, Gloves & Mops
Rated

1

out of

5
by
Jen
from
Nope!
I bought these looking for a disposable wipe during the pandemic I just wanted something that could be disposed of instead of constantly using our dish cloths. The smell I think it's absolutely awful it sounds like it would be great but it's so strong my cabinet reeks of it & I'm not sure I understand her lime and salt smells like men's cologne! We use natural products all the time and took a chance on these and won't buy again. ever! Buttt that's not to say other wouldn't like it...........
Date published: 2020-04-28
Rated

4

out of

5
by
Petra
from
Great Smell, Good Job
By far my favourite scent, tied for no.1 with French Lavender. This happy relaxing scent instantly transports you to a fun, sunny beach with margarita in tow. Perfect for summer and barbecue season. These wipes clean very well and even though they do leave some light fuzzies behind (especially if you retrace the same spot a few times), it's MUCH LESS than the other leading disinfecting wipes. Method Wipes are not as moist but still more than adequate. The French Lavender is divine, smells real and very natural, very pleasant, not irritating at all like the competitor.
Date published: 2020-06-08
Rated

5

out of

5
by
Jess
from
Smells amazing
I love using these to wipe down counters. The smell is godly. I know they aren't anti-bacterial/viral but they are great for cleaning up messes around the house.
Date published: 2020-04-11
Rated

1

out of

5
by
Jennifer Y
from
Synthetic Smell
This is supposed to smell like lime and sea salt, it does not. These wipes are so heavy with fragrance I cannot use them without suffering from a migraine. I wish companies would recognize how awful fragrance can be. Disinfecting ability aside, I still would not recommend these wipes simply because of the overpowering fragrance that does not smel anything like citrus.
Date published: 2020-04-25
Rated

5

out of

5
by
Jill2020
from
Fantastic product!
Love them! Great smell, great product! We leave the bottle on the counter so we can grab them for all the quick messes or a quick counter wipe. They are strong, they quickly wipe away dirt and grime, and they leave behind a really pleasant smell!
Date published: 2020-05-16
Rated

5

out of

5
by
Mamasals
from
Smells amazing!!!
We bought these and keep them.in the kitchen for a quick wipe down. They smell so nice. I sometimes do a quick wipe down just to freshen the smell up in the house. I will purchase again.
Date published: 2020-04-27
Rated

5

out of

5
by
Sden
from
Smells amazing
I don't normally buy wipes but wanted to try these after a friend recommended them. I really like the smell and would buy again.
Date published: 2020-05-11
Rated

1

out of

5
by
Tam
from
Super dry, terrible scent
These wipes are very dry so it's tough to clean with them. The scent smells like a men's deodorant. It is not pleasing.
Date published: 2020-04-04