method
Method Dryer Sheets Ginger Mango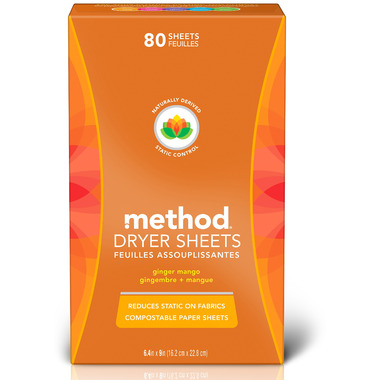 method
Method Dryer Sheets Ginger Mango
Description
Are your clothes getting too clingy?

We hate when that happens, too! take control with method's new dryer sheets. Made from 100% compostable paper, these planet-friendly dryer sheets reduce static and soften your fabrics. Plus, they make clothes smell delightful. Double win!

Features:

Reduces static cling
Leaves a fresh scent
Softens your fabrics
100% compostable paper sheets
Fully recyclable box
Naturally derived, plant-based and biodegradable formula
Ginger Mango Fragrance: method tamed the zing of ginger with the tropical fruitiness of a ripe mango to create a crisp, clean scent with a touch of sweetness. Because method believes that even fragrances should have a soft side.
All method products are vegan and cruelty-free.
Highlights