method
Method Foaming Hand Soap Waterfall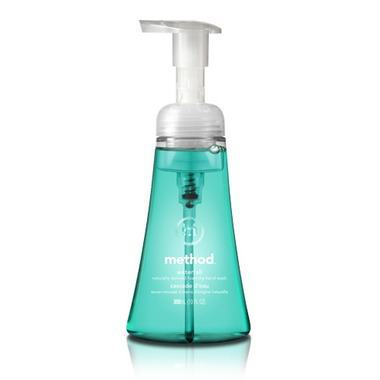 method
Method Foaming Hand Soap Waterfall
300 mL
Method Foaming Hand Soap Waterfall
is rated out of
5
by
28
.
---
Description

Method hand soap is biodegradable, naturally derived and contains no dirty ingredients.

Plus it's foamy! Foamy stuff...it's just one of those things that everybody likes. Kind of like marshmallows and puppies...but without all the calories and obedience classes. You pump, you lather, you smile, and next thing you know you're totally clean. What's not to love?

This foaming hand wash is in a wonderful Waterfall scent. So surrender yourself to the scent of cool, cascading water lily and sandalwood and take a 15-second retreat from reality.

Ingredients: purified water, sodium lauryl sulfate, cocamide DEA, cocamidopropyl betaine, fragrance oil blend, sodium chloride, citric acid/ sodium citrate, methylchloroisothiazolinone, methylisothiazolinone, benzophenone #4, colour, aloe vera gel, vitamin E


Highlights

Rated

5

out of

5
by
Rianna
from
Waterfall Foaming Hand Wash
LOVE LOVE the scent of this. Fresh, clean, not overpowering. I also love that they carry refill bottles for this scent. This is the hand soap in all of my bathrooms. I also love that it's not overly drying. I would love to see Waterfall Scented Hand Lotion to match it in the future!
Date published: 2023-01-09
Rated

5

out of

5
by
ejackson982
from
Amazing product 10/10
I had tried Method's body washes and finally tried their hand soap! This soap lathered quite nice in my hands which is something I am really picky about. It also left behind a subtle scent that just smelled refreshing and clean. It didn't leave my hands feeling uncomfortably dry afterwards either, which is another thing I struggle with. Honestly this has to be the best hand soap I've had in a long time. This is my new favorite!
Date published: 2023-06-20
Rated

5

out of

5
by
Anonymous
from
Like this a lot...
Glad to find this at well.ca as none left in stores here. Can buy the refill, which I did, and also make your own , recipe on Internet. Just a cheer-up purchase for the bathroom and nice for guests to use - once we are allowed guests. Stay well everyone especially staff packing our orders and sending them so quickly.... thank you
Date published: 2020-05-15
Rated

4

out of

5
by
Susan
from
This, like the other Method products I've tried, does the job and smells heavenly. The one caveat: contains sodium lauryl sulfate. I do wish they could find something else to use instead. Other than that, I'm a fan of every Method product I've tried so far, this one included.
Date published: 2012-09-10
Rated

3

out of

5
by
Heather
from
gorgeous teal blue colour is the reason i bought it but i sure don't detect the scent of lily. the scent is really masculine, like aftershave. I kept wondering why my little girl smelled like a dude until i washed my hands in her bathroom and figured it out
Date published: 2013-04-23
Rated

5

out of

5
by
katie
from
Love this soap!! Fragrance is strong but smells great! Makes your hands feel clean and doesn't dry out your hands! I have very sensitive skin and this soap is one of the few that doesn't irritate them!! strongly recommend!!
Date published: 2012-06-07
Rated

1

out of

5
by
Stacey
from
I bought this soap because it said it was a natural product. I will not use or buy this again because the scent is so overpowering that surely it cannot be natural. I smell pthalates!
Date published: 2016-12-26
Rated

5

out of

5
by
Meagan
from
I LOVE every scent of these I have purchased, but this one is by far my Favourite. The bottle is sleek and modern and the colour of the soap adds an a nice pop.
Date published: 2018-10-10