Method Laundry Detergent Lavender + Cypress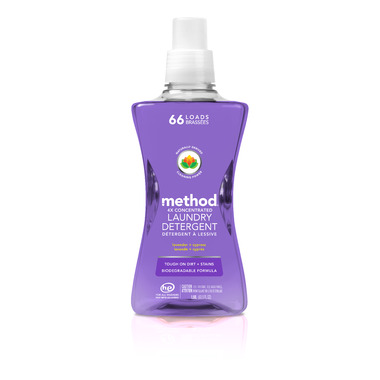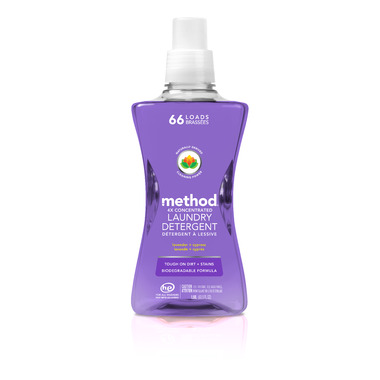 Method Laundry Detergent Lavender + Cypress
Method Laundry Detergent Lavender + Cypress is a small bottle with big results! This naturally derived detergent fights tough dirt and stains with every wash. One cap-ful of this concentrated formula is all you need to tackle large loads.
Features:
Tough on dirt and stains
4x concentrated detergent
No animal testing involved
Formulated to work in cold water
Keep colours bright and whites white
Bottle is made with 100% PCR materials
Naturally derived, plant based, biodegradable and hypoallergenic formula
Ingredients: WATER (AQUA), LAURYL ETHOXYLATE*, SODIUM LAURYL
SULFATE*, SODIUM CITRATE*, PROPANEDIOL*, OCTONAL ETHOXYLATE*, GLYCERIN*, COCO METHYL
ESTER ETHOXYLATE*, POTASSIUM COCOATE*, CALCIUM CHLORIDE*, CARBOXYMETHYLINULIN*, POLYESTER,
AMYLASE*, MANNANASE*, PROTEASE*, DENANTONIUM BENZOATE, DISTYRYLBIPHENOLSULFONATE,
METHYLISOTHIAZOLINONE, BENZYLISOTHIAZOLINONE, PHENOXYETHANOL, FRAGRANCE (PARFUM:
COUMARIN, GERANIOL, LINALOOL), POLYMERIC VIOLET *DENOTES NATURALLY DERIVED OR OF
MINERAL ORIGIN

Caution:
MAY IRRITATE EYES. MAY IRRITATE SKIN. DO NOT MIX WITH OTHER CHEMICALS. DO NOT GET IN EYES. DO NOT GET ON SKIN OR CLOTHING. FIRST AID TREATMENT: IF SWALLOWED, CALL A POISON CONTROL CENTER OR DOCTOR IMMEDIATELY. DO NOT INDUCE VOMITING. IF IN EYES, RINSE WITH WATER FOR 15 MINUTES. IF ON SKIN, RINSE WELL WITH WATER. CONTAINS: ALCOHOLS, C12-16, ETHOXYLATED, SULFURIC ACID, MONO-C10-C16 ALKYL ESTERS, SODIUM SALTS, FATTY ACIDS, ESTERS WITH POLYETHYLENE GLYCOL MONO-ME ETHER, DECYL ALCOHOL ETHOXYLATE AND FATTY ACIDS, COCO, POTASSIUM SALTS. KEEP OUT OF REACH OF CHILDREN.