mon bebe Premium Dry Baby Wipes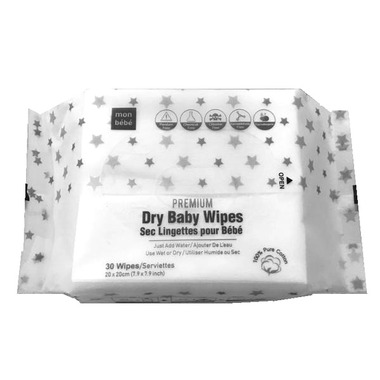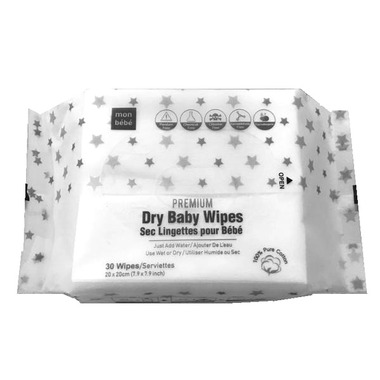 mon bebe Premium Dry Baby Wipes
mon bebe Premium Dry Baby Wipes is made by a Canadian mom who believes that everything that comes into contact with your baby's skin should be as gentle, pure and natural as possible.
It is made of 100 % pure cotton that is extra strong and thick, ultra soft and chemical-free. Perfect for newborn baby, sensitive skin, eczma and the adult (remove makeup). Must have item for anyone looking for safe and trustable wipes for their little ones.

How many wipes do you use in a day?
On average, there are ten diaper changes a day for the first 6 months and it is around 15-30 wipes used per day. mon bebe Premium Dry Baby Wipes comes in 30 wipes/pack considering the average daily usage. For diaper changes, moisten with water/cooled boiled water OR you can simply pour water directly into the pouch and be ready for on the go making it the safest and trustable DIY wet wipes! (You will need ~260ml of water for 30 wipes/pouch)
Features:
Thicker than normal, extra soft and extra absorbent that lets you clean more effectively with less wiping
Free of Preservative
No added ingredients/chemicals and fragrances free
Paraben, Chemical, Chlorine, Formaldehyde Free
Hypoallergenic

Safe to use and may help prevent diaper rash
Perfect for newborn baby, sensitive skin, eczma
Made with OEKO-TEX certified Cotton
Biodegradable
Use dry or wet
Multipurpose and reusable
Designed in Canada/Made in Korea

Product Material:
100% Cotton (extra thick)
Product Dimensions:
7.9 x 7.9" per wipe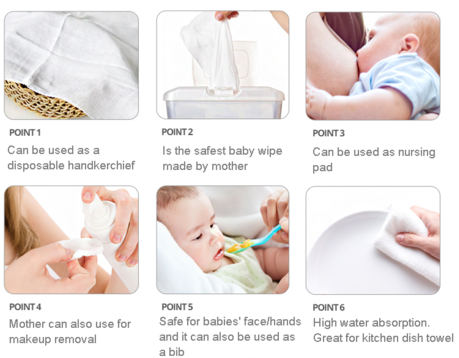 Please Note: mon beb Premium Dry Baby Wipes has no expiry date to store but once it is mixed with water, it should be used within max. 48 hours.