Mosquito Shield PiActive Kids DEET Free Insect Repellent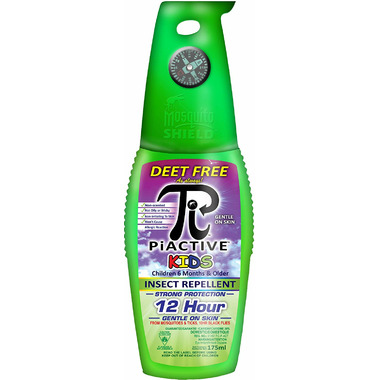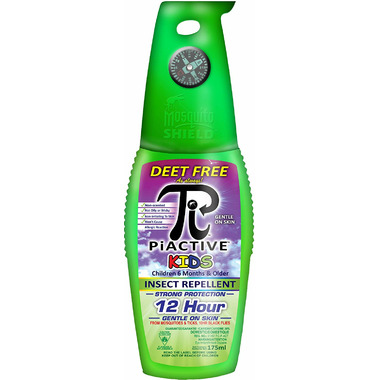 Mosquito Shield PiActive Kids DEET Free Insect Repellent
PiActive is an Icaridin based repellent, that is effective and long lasting without DEET.
The patented cap comes with a fully functional compass, whistle and carabiner hole for transportation. Wash whistle thoroughly before using.
Features:
Repels, effective, durable
Will not damage fishing lines, plastic or other synthetic materials.
Unscented
Can be applied on children 6 months and older

Non-irritant
Not oily, greasy, or sticky
Provides long-lasting protection
10 hrs of protection against black flies
12 hrs of protection against mosquitoes and ticks
Active Ingredients:
Icaridin
Directions for Use:
Hold 15 to 20 cm from skin while spraying, keeping nozzle pointed away from face. Slightly moisten skin with a slow sweeping motion. Apply sparingly, not under clothing and only when necessary. Do not apply directly to face or to excessively sunburned skin. TO APPLY TO FACE: Spray hands and apply avoiding eyes and mouth. Apply sparingly around ears. Do not spray in enclosed spaces. Reapply if necessary after 12 hours for protection from mosquitoes and ticks, and 10 hours for protection from black flies.
REG No. 31457 P.C.P. ACT