My Fairy Garden Lily Pond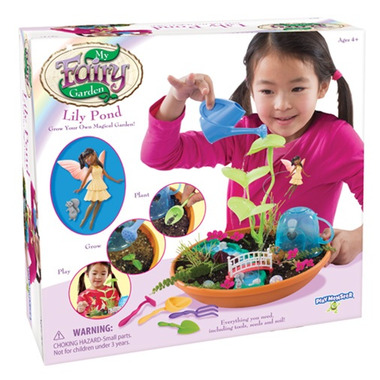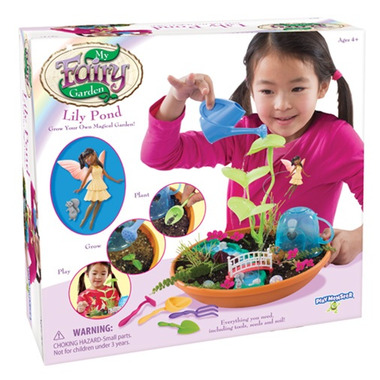 My Fairy Garden Lily Pond
My Fairy Garden™ is the first of its kind: a toy that's also a real, live garden! Children love kits that allow them to grow plants at home; it gives them a connection to nature and a sense of satisfaction at having nurtured a living thing. My Fairy Garden takes it to a new, exciting level by allowing children to interact with it as part of an enchanting play set! Children plant the quick-germinating seeds, and care for their garden, all while setting up and playing with adorable fairies, woodland friends and accessories! It's a great collectible line for children ages 4 and up!
It's a serene garden play area for fairy fun! The set includes everything needed to set up a play area: teacup house with opening doors, bottom tray, leaves and stem, stream, bridge, Calla the fairy, her squirrel friend Nutmeg, and gardening accessories and tools. Also included are soil and quick-germinating seeds to get your garden started! Children can add other flowers or plants if they want, too! It's a fun growing and play set!
Contents
: Teacup House, 3 Leaves and Stem, Bridge, Stream, Base, Seed Packet, Soil, Watering Can, 4 Gardening Tools, Calla the Fairy, Nutmeg the Squirrel, Leaflet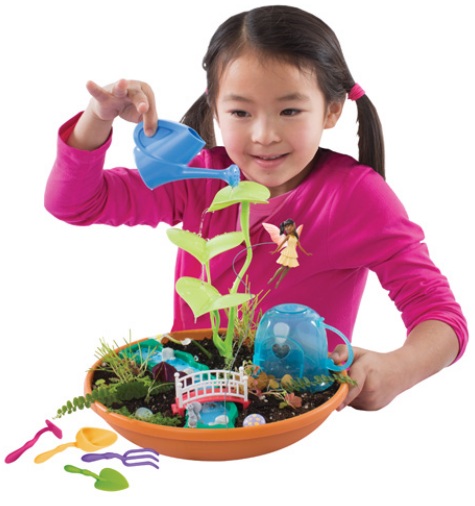 Tiffany:
about a year ago
I gave this to my four year old niece for Christmas, and she adored it. Her and her Mom planted the seeded dirt that came with the package and it started growing within the week. It's a sweet little decoration for her room, and a good start for her interest in growing things.
Page
1