Nalgene 12 Ounce Grip-n-Gulp Bottle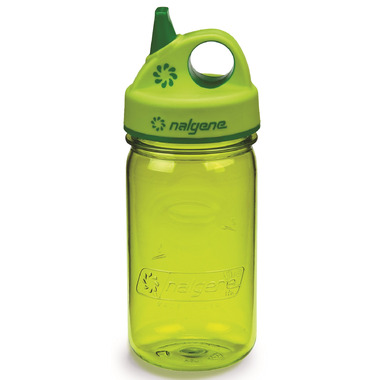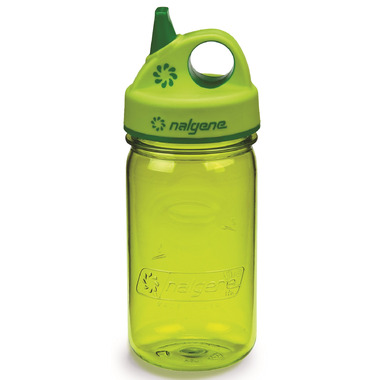 Nalgene 12 Ounce Grip-n-Gulp Bottle
Nalgene has taken on Mt. Everest. Now they're ready for toddlers!
Nalgene containers have stood up to some of the world's most extreme conditions. Small potatoes compared to small children.
This Nalgene Grip'n Gulp™ is tough enough to survive being thrown from a moving minivan, spill proof enough to compel parents to blame the rug stains on the dog, and odor proof enough to allow leftover milk to go undetected under the couch for months. Most importantly, its a great way for little kids to reach new heights!

Features:
Side indents are easy for tiny hands to grasp
Rubberized lid and smooth plastic mouthpiece make drinking comfortable
Superior threading on cup and lid is engineered to prevent spills
Durable Tritan resists odors, stains, and residue
Cup, lid, and removable sipper valve are all top rack dishwasher safe
Lid loop can be clipped to backpack, diaper bag, or stroller
Twelve-ounce cup is compatible with On The Go, All-Terrain, and wide-mouth Nalgene Bottles

This bottle is manufactured from Eastman Tritan copolyester that is manufactured without BPA
Size Information:
12 oz. capacity
Erica:
a few months ago
I was looking for an easy-to-clean sippy cup for my kids to take water to bed without spills. These seemed to fit the bill and I really wanted to love them - they are super easy to clean, with one removable silicone part and it is all dishwasher safe. They are completely water-tight initially.

However, when the kids suck on the water bottle, there is no hole for air to enter back in. It has to go back in through the sippy part when they stop sucking. This leads to a large influx of air through the silicone valve, which forces the valve to pop out of the lid to sink to the bottom of the cup. This leads to spills all over the bed, completely defeating the purpose of a sippy cup.
Connie:
a few months ago
This is a sippy cup (Not what I was expecting). If the valve is in it takes a lot of sucking work to get water out. If it is not in, water flows nicely but because there is no cap it is not suitable for taking anywhere. I wouldn't really recommend this kind of top and would love to hear if we can buy an alternative top for this bottle.
Page
1