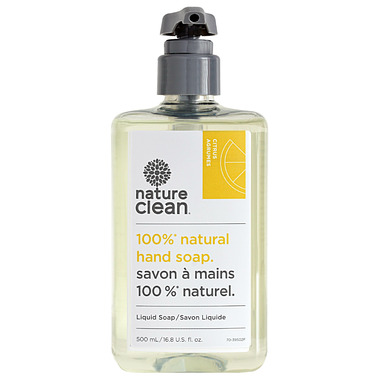 Citrus
500 mL
Nature Clean All Natural Liquid Soap
is rated out of
5
by
2
.
---
Description
Do you choose your liquid soap based on scent or which design matches your bathroom décor? Well, you may be getting a lot more than you bargained for.

76% of liquid soaps and 30% of bar soaps now contain anti-bacterials. Many people pick up anti-bacterial soaps without even realizing it. Others choose anti-bacterial soaps and cleaners because advertising implies that using them will help protect your family against colds and flus. But colds and flus are viruses, and anti-bacterials have no effect on them

A commonly used anti-bacterial chemical is triclosan, a suspected immunotoxin and a suspected skin or sense organ toxin. Triclosan creates a carcinogen called dioxin, as a by-product. A Swedish study found high levels of this bactericide in human breast milk.

Not all bacteria make people sick. Some are beneficial. Anti-bacterial soaps and cleaners kill both beneficial and harmful bacteria. By doing this, they actually leave us more vulnerable to the harmful ones we encounter. Children especially need exposure to some germs, to develop their immune systems.

Scientists are concerned that the widespread use of anti-bacterials contributes to the development of resistant bacteria, ie bacterial that will only be killed by different or stronger doses of chemicals. So when we need to kill harmful bacteria, like strep, staph and e-coli, it will be more difficult.

Our Liquid Soap is a 100% vegetable based, and created without perfumes, dyes, harsh preserving agents or animal tallow.

Safe enough even for those consumers with environmental sensitivities.

Ingredients: WATER, POTASSIUM OLEATE (NATURAL COCONUT CLEANSER), GLYCERIN (VEGETABLE SOURCE), SODIUM CHLORIDE (SALT) AND LITSEA CUBEBA ESSENTIAL OIL.
Highlights

Rated

1

out of

5
by
Francesca
from
Smells Like Wet Newspaper
For those of you old enough to remember what wet newspapers smelled like, that's exactly what this soap smells like. It's awful. It does not smell like citrus. And the texture is smiley and gross. I do like the bottle though - the shape - and it has a nice big pump (the top part).
Date published: 2022-10-03
Rated

5

out of

5
by
JenOk
from
Good Kitchen Hand Soap
Love this by the kitchen sink. Also, call us crazy but both my husband and I think this smells exactly like Coca-Cola. Not the typical lemon fragrance I expected haha but I actually really like it.
Date published: 2021-09-01