Nature's Truth Aromatherapy 100% Pure Rejuvenating Lavender Oil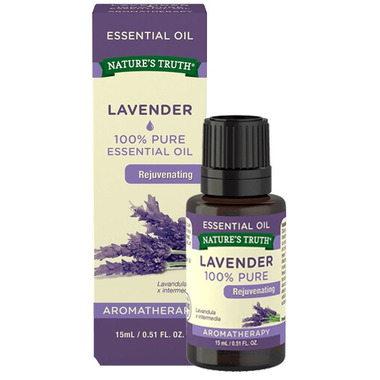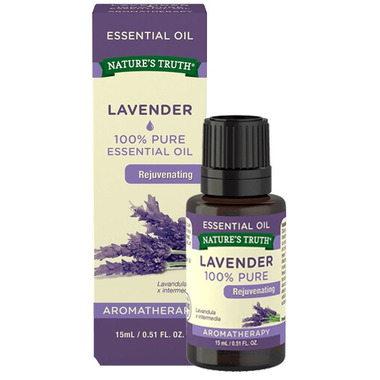 Nature's Truth Aromatherapy 100% Pure Rejuvenating Lavender Oil
Steam distilled from its flowers, Lavender boasts a rejuvenating, floral scent. Widely used for its relaxing and comforting qualities, this refreshing scent instills a sense of deep tranquility, making it perfect for meditation and massages.
Features:

Rejuvenating
Relaxing
Serenity
Directions: Enjoy the benefits of pure essential oils in a massage, your bath, or in a diffuser. For a massage, dilute at a recommended rate of 5 drops of essential oils to 10mL of Nature's Truth Unscented Base Oil.
Diffuser
Add 5-10 drops of essential oil with 120mL of water to your diffuser before turning it on. DO NOT PUT 100% PURE OIL IN DIFFUSER WITHOUT ADDING ADDITIONAL WATER. SEE INSTRUCTION MANUAL FOR DIFFUSER USE.
Household Cleaner
Combine oil(s) with vinegar, alcohol, or distilled water in a spray bottle.
Bath/Shower
Add 3-5 drops of oil(s) to hot bath water or shower steam before stepping in.
DIY Projects
Use essential oil(s) in your homemade candles, soaps, lotions and more!

Massage Oil
Create your own blend and combine 5 drops of oil(s) to 10mL of base oil before massaging on skin.
Topical Use
Do not apply essential oils directly to skin. Combine 5 drops of oil(s) to 10mL of base oil before using topically.
Air Freshener
In a 4oz spray bottle add 10 to 20 drops of oil(s) to water and spray to freshen up a room.
Yoga
Rub a roll-on on your wrists or place a few drops of oil(s) on a tissue and place in front of your mat.
Ingredient: 100% Pure Lavender Oil (Lavandula x intermedia) (Lavandin).
Caution: For external use only. Dilute in a base oil. Do not use directly on skin or apply to broken or irritated skin. Keep out of reach of children. Keep oils away from eyes. If skin sensitivity occurs, discontinue use. If you are pregnant, nursing, taking any medications or have any medical condition, consult your doctor before use. Discontinue use and consult your doctor if any adverse reactions occur. Keep undiluted oils away from hard surfaces and finishes.