Nature's Way Calcium and Magnesium with K2 Liquid Blueberry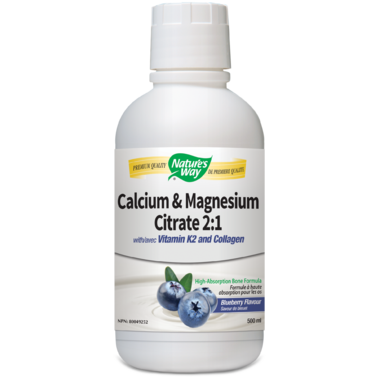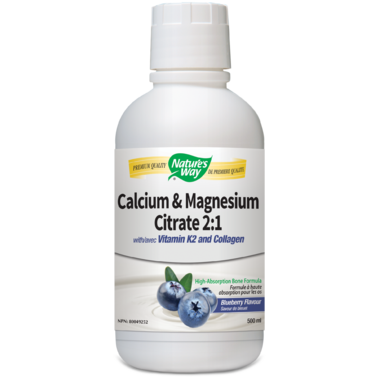 Nature's Way Calcium and Magnesium with K2 Liquid Blueberry
Nature's Way Calcium and Magnesium with K2 Liquid Blueberry provides calcium, magnesium, and vitamin D in a well-tolerated, dairy-free, liquid to help support bone health.
Features:
Convenient




Liquid Bone Support Supplement




Blueberry flavour
Ingredients:

Serving Size: 1 tablespoon (15ml) Amount/Serving %DV
Each tablespoon (15 ml) contains
Medicinal ingredients:
Calcium (from citrate) 600 mg
Magnesium (from citrate) 300 mg
Hydrolyzed collagen 200 mg
Manganese 7 mg
Boron 700 mcg
Vitamin K2 45 mcg
Vitamin D 400 IU

Other Ingredients: Purified water, sorbitol, citric acid, blueberry flavour, shade bordeaux, natural fruit flavour, xanthan gum, potassium sorbate, stevia rebaudiana leaf, carrageenan.

Lynda:
more than a year ago
I like this Calcium supplement. It has a good combination of useful ingredients. I love the Blueberry flavour, tastes natural. I prefer the liquid form for easy digestion. I don't find it chalky but it needs to be shaken very well. I would definitely recommend it and I will definitely purchase this again.
Page
1