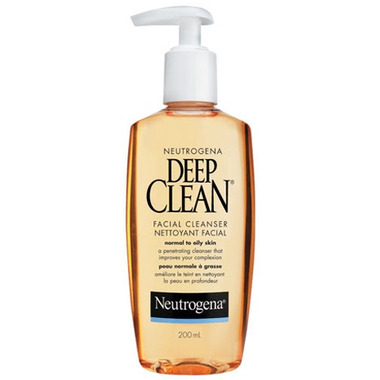 200 mL
Neutrogena Deep Clean Facial Cleanser
is rated out of
5
by
29
.
---
Description
NEUTROGENA
®
DEEP CLEAN
®
Facial Cleanser is a penetrating cleanser that improves your complexion. It cleans so deeply and thoroughly that it improves the look and feel of skin, and leaves no pore-clogging residue. This effective face wash contains a hydroxy acid which penetrates deep into pores, dissolving dirt, oil and make-up. It also removes dead surface skin cells that can dry, roughen and dull your complexion. Softer, clearer, fresher skin will emerge.
Benefits:
Cleanses deep into pores, dissolving dirt, oil and makeup to improve your skin's complexion
Removes dead surface skin cells
Directions: Massage and lather gently onto wet face, avoiding eye contact. Rinse thoroughly.
Rated

1

out of

5
by
brunarb
from
The product gave me a serious allergy to the whole face
I bought the Neutrogena Deep Clean and after the first use, I notice that my skin turned red and very dry. But still, I tried again and I used the product the next day. The next day I woke up with a swollen face! After searching for 30 seconds on the internet I found thousands of negative reviews on the product! In short, I spent even more money on medications, I had to cancel my appointments, because I can't leave home looking like a little panda with a swollen face. A big disappointment for this product. With all these negative reviews how it is possible you still keep this product on the market!!!
Date published: 2019-03-11
Rated

1

out of

5
by
Shanna
from
Brutal on my skin buyer beware
I dont normally write reviews. But this product totaled my skin. On the first day my skin was hot and tight the second day was a full blown rash with each of my pores around my chin bearing a tiny pimple/blister and red puffy bumps. I am straight up scared that I will have scars around my chin/mouth. It's got a half decent pricetag but AT WHAT COST.
Date published: 2020-10-21
Rated

1

out of

5
by
SD18
from
Bad reaction
I'm not one to post reviews, but felt I should with this. I am looking for another facial cleanser for oily skin and decided to try this as it was dermatologist recommended. Two days after using it, I started to develop a rash around my mouth and jaw line and sensitivity around my eyes. Day three I am now experiencing burning all over my face. I don't have sensitive skin and have never had issues with any other skincare and judging by other's experiences, it sounds like this is something that needs to get looked into. Very disappointed and would definitely not recommend.
Date published: 2022-05-07
Rated

1

out of

5
by
sienna drake4
from
disgust
I have dry skin that is prone to red dry spots especially during winter and occasional outbreaks. When I found the Cleanser, all my skin problems disappeared. I was amazed by the comments I received on my healthy and well moisturized looking skin, especially from people in the medical sector. But as so often happens with skin products, companies have to change their products, not caring at all about what their customers/consumers want. I tried this cleanser out of desperation because the cleanser has been discontinued. The scent is bad and all my skin problems have returned. As I can read on this and other web sites, I am not the only one. Shame on you Neutrogena for not listening to your loyal customers. I will not use any Neutrogena products anymore in the future.
Date published: 2016-02-28
Rated

1

out of

5
by
Emilyd
from
Do NOT recommend
I bought this cleanser for the first time last week. I have never tried a face wash from neutrogena so I thought I would try it out. The first 2 days were okay, on the third morning I woke up with a lot of rough texture around my chin, I noticed small whiteheads all over my chin and it continued to spread to the rest of my face and neck for the rest of the day and days after. I had red, blotchy, extremely itchy, hot, swollen skin. I had to take Benadryl and a cortisone cream to heal my face. Do not buy this.
Date published: 2022-03-12
Rated

1

out of

5
by
Kennedy
from
Burned my skin
I purchased this product just last week. I wouldn't consider myself as having extremely sensitive skin and I used this product once. The next morning I woke up and my skin was flaky, raw and sore... I don't know if this product gave me a chemical burn of some sort, or just overly dried out my skin from one use. I've been using moisturizers Day and night ever since to help repair my skin and it's been 5 days and my skin is still flaky and irritated. Wouldn't recommend.
Date published: 2020-03-01
Rated

1

out of

5
by
Caitlindani
from
This product left my face sore
I was excited to try this product as I needed something for a cleanser. My face started feeling tight after the first use and now my face feels constantly itchy and burning. I have not been using any other face washes. When I touch my face it feels very dry and tough, no longer smooth like it did before I started using it. Will not be using again and would never recommend this product to anyone.
Date published: 2018-04-14
Rated

5

out of

5
by
Tara
from
Holy Grail
Love this product. I used this every single day and then ventures off to try new things and my skin started freaking out. Went back to this stuff and cleared up my breakouts and oily skin in a week! Not switching to anything else anymore. I use the Oil-Free Combination Skin moisturizer with this everyday. I wouldn't recommend if you have dry skin, but it definitely works amazing for oily skin.
Date published: 2014-05-28