Neutrogena
Neutrogena Hydro Boost Hydrating Hydrogel Mask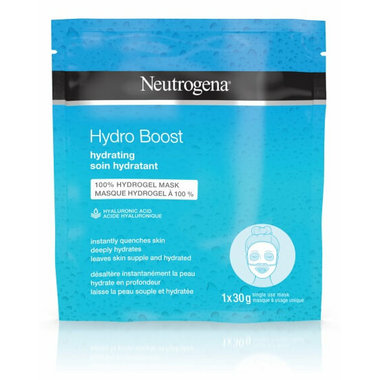 Neutrogena
Neutrogena Hydro Boost Hydrating Hydrogel Mask
30 g
Neutrogena Hydro Boost Hydrating Hydrogel Mask
is rated out of
5
by
964
.
---
Description
This innovative hydrogel mask, with hyaluronic acid, instantly quenches dry skin leaving it hydrated, smooth, and supple.
This mask is made from a unique 100% hydrogel material. It contours to your skin and seals in the formula for optimal absorption to deliver clinically proven results.
Features:
Contains Hyaluronic Acid
Non-comedogenic
Gentle on skin
Step 1: Cleanse your face with a Neutrogena® Hydro Boost hydrating cleanser
Step 2: Peel white film backing from the mask sheet & discard.
Step 3: Place hydrogel down on face and leave on for 15 minutes.
Step 4: Remove the mask and massage remaining product onto face and neck.
Ingredients:
Water (eau), Dipropylene Glycol, Propanediol, Ceratonia Siliqua (Carob) Gum, Xanthan Gum, Chondrus Crispus Extract, Chlorphenesin, PEG-60 Hydrogenated Castor Oil, Phenoxyethanol, Potassium Chloride, Parfum, Disodium EDTA, Hydrolyzed Hyaluronic Acid, Tremella Fuciformis Sporocarp Extract, Plukenetia Volubilis Seed Oil, Sucrose Cocoate, Tocopherol, Blue 1.
Rated

1

out of

5
by
Dee Dee
from
Can't Buy the better Unscented version in Canada
I bought the unscented version of this in the USA. It was brilliant. NEUTROGENA, WHY DO YOU ONLY OFFER THE IRRITATING SCENTED VERSION IN CANADA but the unscented and scented versions in the USA? When I ran out of the unscented version, I bought the only version available in Canada --The strongly scented very irritating cleanser. Neutrogena, You've lost a customer! I threw away the 3/4 full bottle of your scented version. NO ONE wants scented cosmetics anymore. If you can only offer 1 type of this cleanser in Canada, make it the unscented, please. Until then, I am shopping with another company for my cleanser.
Date published: 2021-02-16
Rated

5

out of

5
by
iselac227b
from
(This review was collected as part of a promotion.) Love the Neutrogena Hydro Boost Hydrating 100% Hydrogel Mask! It is perfect for busy mums or individuals on the go because you can literally use it anywhere you want asides from using it at home. I tried the mask during our trip to the beach and it was super convenient. I was able to spend time with my son collecting seashells while giving my skin the care it so desperately needed. You just apply the mask onto your face, leave it on for 15 minutes and take it off. Any excess residue you just dab/rub into your skin and that is that! My skin feels very hydrated and has a glow after using the mask.
Date published: 2018-07-09
Rated

4

out of

5
by
alexisandreea
from
(This review was collected as part of a promotion.) I've never tried a gel mask before, and I was pleasantly surprised! I expected the gel to fall off immediately, but the mask adhered to my face well for the entire time I had it on. My only complaints were the fit of the mask and the packaging. The mask was a bit small despite by best efforts of fitting it to my face, and didn't reach anywhere near my jawline, which is my biggest problem area. As for packaging, the product was very runny and messy. However I was a first time gel mask user, so I look forward to trying and comparing more!Neutrogena® Hydro Boost hydrating 100% Hydrogel Mask
Date published: 2018-06-16
Rated

5

out of

5
by
roxya901d
from
(This review was collected as part of a promotion.) I received this product complimentary from Influenster for testing purposes. I found it really interesting that this mask comes in 2 pieces. With 2 pieces, I like that you can place it as you'd like instead of struggling with one big piece. I like that it was a gel type mask instead of a soaked paper because it felt nice and cool on the skin. After using the mask, my face felt nicely hydrated and soft. It's affordable so I would definitely recommend it for someone on a budget looking for a hydration mask. I will be purchasing this especially during the cold Canadian winters for extra hydration.
Date published: 2018-07-20
Rated

1

out of

5
by
DiGa3333
from
Fragrance?????????
You put so much effort into making this oil free etc...... and then put fragrance. Not just a whisper either. It's rediculous.
Date published: 2020-09-19
Rated

4

out of

5
by
sincerelysimran
from
(This review was collected as part of a promotion.) I want to start off by saying that I received this product through a Voxbox, but my opinion of the product is not biased. I normally don't use sheet masks, but this hydrogel mask is pretty awesome! Once you apply it to your face it gives you this cooling effect, which just wakes your skin up. I left it on for 15 minutes and it felt comfortable and hydrating on the skin. I felt as if my skin was just soaking up water. Once I removed the mask, it left my skin supple and fresh! I would definitely recommend this face mask for anyone who has tired and dull skin and is looking for a quick pick-me-up.
Date published: 2018-07-10
Rated

2

out of

5
by
Anonymous
from
Perfume headache
This cleanser worked very well to clean my face. My experience was ruined however my the cheap and strong perfume sent. I had to wash my face to get the smell off. I had heard this cleanser was a good "budget" one for some more expensive brands I usually prefer. I'd rather spend more though!
Date published: 2020-08-07
Rated

4

out of

5
by
Anonymous
from
(This review was collected as part of a promotion.) I liked how fresh and smooth this mask made my face feel. It was super easy to apply, and the cutouts of the gel mask lined up well with my eyes and mouth. The product itself cools the skin, and truly hydrates, making everything feel soft and supple. It almost made my face feel tingly afterwards (in a good way). The gel mask has just the right amount of moisture, without being messy and having liquid drip everywhere. My only complaint is that the mask slid of my face once or twice while I was doing things around the house, so I recommend not moving around too much while it is applied.
Date published: 2018-06-04