Neutrogena
Neutrogena Moisture Oil Free for Sensitive Skin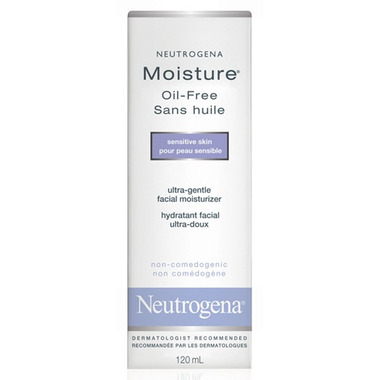 Neutrogena
Neutrogena Moisture Oil Free for Sensitive Skin
120 mL
Neutrogena Moisture Oil Free for Sensitive Skin
is rated out of
5
by
168
.
---
Description
Neutrogena Moisture Oil Free for Sensitive Skin is a lightweight, non-greasy, water-based lotion that provides gentle yet effective moisturization for even the most sensitive skin.
This ultra-gentle and irritant-free moisturizer is especially formulated for sensitive skin and contains no fragrances, dyes or drying alcohol. The formula is oil-free, absorbs quickly and won't clog pores.
Features:
Ultra gentle facial moisturizer.
Lightweight, non-greasy, water-based lotion effectively reduces dryness without leaving skin greasy or shiny.
Oil-free formula absorbs quickly and won't clog pores.
Rated

4

out of

5
by
Mander
from
A simple and good moisturizer!
I've been using this moisturizer for about a year or two and honestly I am not mad at it whatsoever. I have oily and combination skin and this moisturizer does the job! I would say though that it is a bit greasy/shiny on my skin but that doesn't bother me too much since I like to use this moisturizer after my night time skincare routine and under makeup to hydrate my skin. It also glides smoothly when I apply it and I like the feel of this product. Overall, if you are looking for a basic moisturizer that does the job and won't irritate your skin, I would choose this one!
Date published: 2020-07-08
Rated

5

out of

5
by
RebekaJ88
from
Keeps skin soft and unclogged
It keeps my skin feeling soft all day long and doesn't clog my pores
Date published: 2013-03-23
Rated

5

out of

5
by
chrisz
from
Amazing for oil and acne prone skin!
I have struggled with acne and extremely oily skin since I was a teenager. I have tried so many different creams (some super expensive!) and none have compared to this! The formula does not make my sensitive skin break out like many creams do and it doesn't add any extra oil into my oil prone skin. I've been using this product for over a year now and it's done wonders for controlling grease and shine. Also, the bottle lasts FOREVER! Like seriously, 6 months or more using twice a day. In the summer I only apply about half a pump into my skin, and in the winter (cold, dry, Canadian winter) I apply a full pump. I've recently started using the version of this cream with SPF as a day cream.
Date published: 2019-04-15
Rated

4

out of

5
by
Anonymous
from
Feels very light weight on the skin =)
I have been looking for a sunscreen that is oil-free and non-expensive for the longest time. I love the extremely light weight texture of the cream. It doesn't feel like I have anything on my face!
Date published: 2013-03-23
Rated

5

out of

5
by
make-up guru
from
Excellent Value/Price!
Finally....a reasonably price product AND quality. I have been looking for a light and non-greasy moisturizer....FOUND it!
Date published: 2013-04-03
Rated

2

out of

5
by
jul
from
Product seemed promising...
This product felt great at first but then I reacted two day's later! so sad, I thought I'd found a great product! I don't recommend if you have skin that is sensitive (contrary to product title).
Date published: 2014-02-27
Rated

5

out of

5
by
Just J
from
YES, finally something works!!!!
I have tried many products over the past 5 years. Some suggested by friends and family, others from TV ad's and such, but I never got any relief. Nothing ever changed. With moisture oil free, my skin is soft, I don't have any problems with pimples (at 50 they can be a little embarrasing), and it continues to work. Thank you, thank you thank you!!!
Date published: 2013-04-18
Rated

5

out of

5
by
KaylaMay
from
Love this lotion
I started using this oil free lotion about two years ago. I was constantly breaking out in acne and didn't understand why. Now that I switched to this light weight oil free, non greasy lotion my face is softer and usually acne free. The other benefit to this product I noticed is I put it on prior to make up every morning and although I also use their face wipes my make up comes up quick and easy at the end of the day. I love this lotion and wouldn't trust using anything else!
Date published: 2013-03-08