Neutrogena
Neutrogena Naturals Purifying Facial Cleanser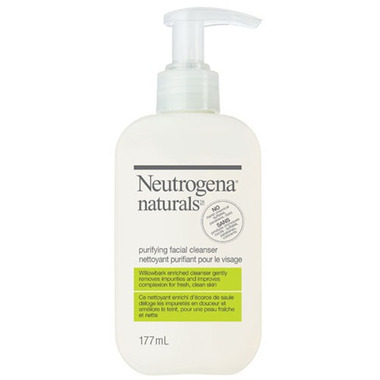 Neutrogena
Neutrogena Naturals Purifying Facial Cleanser
177 mL
Neutrogena Naturals Purifying Facial Cleanser
is rated out of
5
by
52
.
---
Description
Willowbark-enriched cleanser gently removes impurities and improves complexion for fresh, clean skin. Contains naturally-derived salicylic acid (from Willowbark) is suitable for acne prone skin. Other natural sources of ingredients in the formula include coconut, corn, palm kernel and guar bean for improving the look and feel of your skin.
Highlights

Rated

4

out of

5
by
M.R.
from
I have tried all kinds....
I'm a person who likes to try different products here and there when it comes to face product, beauty products, etc. I have tried many facial cleansers, scrubs and with my normal/combination skin its hard. Some products leave my skin very dry, or extra oily in certain parts of my face. I will say after trying this, I see and feel a big difference with my skin since using this cleanser :)
Date published: 2014-10-15
Rated

4

out of

5
by
CT
from
Great!
Not harsh on the skin, doesn't cause me to break out, and essentially keeps skin clear without excessive drying. Had to repurchase after finishing the first bottle!
Date published: 2013-03-24
Rated

5

out of

5
by
wendy33
from
The best ever
I have sensitive skin and have tried alot of cleansers, Naturals was the only one i found not to dry my skin and felt very clean.
Date published: 2013-03-31
Rated

5

out of

5
by
Anglewings
from
This product is great for almost anything
I don't have any acne spots on my face,I guess I'm past that stage in my life but,I do love a Cleanser that leaves my skin feeling clear and hydrated.That is what Neutrogena Naturals Purifying Face Cleanser does for me, It will help to improve your skin,makes your skin feel softer and smoother to the touch.It isn't that expensive to purchase and a bottle can last you quite a while.Been using it a while now and I really like it.I would recommend you give it a try .
Date published: 2016-01-03
Rated

5

out of

5
by
Ilana99
from
ANGRY
I am SO ANGRY AT YALL! This was my absolute favourite product. I have dry, sensitive, acne prone skin, and this is the only product that has EVER made my skin soft and glowing... now that it has been discontinued I am a WRECK. My face is constantly rashy and itchy, angry, painful, and acne ridden.. I've tried so many products and nothing helps. PLEASE I BEG OF YOU, PLEASE bring back this product
Date published: 2021-04-20
Rated

4

out of

5
by
giargiarz
from
this product is not too dry as compared to other cleanser
i've tried so many cleansers and most of them makes my skin really dry afterwards. This one doesnt and also it does not have strong frangrance in it. Price is also very reasonable / affordable.
Date published: 2013-04-11
Rated

5

out of

5
by
ajohnston10
from
Love the scent and feeling...
I am a long time user of Neutrogena acne products and have recently decided to try the new naturals line. I am very pleased not only with the scent, but also with the way my skin feels while I'm using it and after I rinse it off. The value of the product for the price is outstanding and I would highly recommend this to anyone looking for a gentle cleanser with a fresh scent.
Date published: 2013-03-08
Rated

4

out of

5
by
Lifechangenaturals
from
Great daily cleanser
I like this product because with its natural products it cleanses well, lathers, and has a mild smell. Some cleansers have a terribly strong smell, but this doesn't. However, I wish it were more moisturizing. I find my skin especially dry this winter using this product.
Date published: 2013-03-06