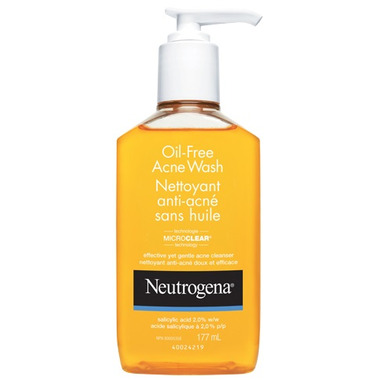 177 mL
Neutrogena Oil Free Acne Wash
is rated out of
5
by
56
.
---
Description
NEUTROGENA
®
Oil-Free Acne Wash is an alcohol-free cleanser that provides deep cleaning without over-drying your skin. It penetrates deep to clean pores to help prevent blemishes and pimples by removing excess oil and surface buildup. Special ingredients soothe and condition skin, leaving it clean, residue-free and never oily.
Benefits:
Effective yet gentle acne cleanser
Helps prevent new acne pimples from forming
Won't overdry skin and clog pores
Directions: Use twice a day. Wet face. Lather. Massage gently. Rinse thoroughly.
Rated

5

out of

5
by
carla
from
oil free acne wash (orange)
I have a very sensitive skin Im having hard time to find a safe and inexpensive beauty products! I tried this one and im using it almost one month now I can say this is really effective for me. i like this product 100% and affordable! It helps to treat my pimples.This is safe for those who have sensitive skin like me.
Date published: 2013-03-28
Rated

4

out of

5
by
Steph79
from
Cost-Effective Solution
I used to purchase Proactive, which is quite expensive. I had tried switching over to other brands, but always found myself going back to the costly Proactive because nothing else seemed to work. Tried this, and finally was able to say goodbye to that other brand for good. This product (I prefer Neutrogena's Oil-Removing Foaming Cleanser, but this is a close second) controls break outs and doesn't over dry. I also find it doesn't create a strong sensitivity to the sun/UV rays like other products I've tried. And of course, the price point is a huge selling feature. Overall, highly recommended.
Date published: 2016-08-02
Rated

5

out of

5
by
Poosh771
from
The Best
This is the first product I have tried by Neutrogena and it's great. This product takes patience and time. You have to get to know it before you give it a final verdict. When I first started using it, I did not think much of it. I then learnt that some people leave it on the skin for a few seconds before rinsing it off and I think that really did it for me. Leaving it on the skin for a few seconds before rinsing really gets the acne. I also use it on my body and it works really well as a body cleanser. I highly recommend it. Definitely patch test it if you are scared to try it.
Date published: 2020-09-23
Rated

3

out of

5
by
Maryyy3333
from
Drys my skin out!
For me personally, this stuff is way too strong for my sensitive skin. It completely dries my face out even if I use it one time!
Date published: 2014-11-19
Rated

4

out of

5
by
Dream24
from
Good For Acne Prone Skin
I use to have very oily and acne skin. I found this wash did help reduce the oily patches on my skin. But after a while it really dried out my skin and it continued to dry out my skin even after I applied moisturizer. Over the years, I changed moisturizer a few times and still my skin was extremely dry. Finally I switched over to the Deep Clean wash and my skin stopped drying up as much. This product definitely worked on my oily face and is still my go to cleanser to help with my acne. However, you should make sure you moisturize your skin to prevent it from drying out.
Date published: 2013-04-13
Rated

2

out of

5
by
minimouse
from
drying
I have combination skin and this product is too drying on around my mouth and nose
Date published: 2013-03-11
Rated

5

out of

5
by
Ana29
from
Awesome product!
I bought this product many times as I was facing acne issues. I used many other products available in the market to get rid of acne but all of them failed to give the desired result. Then my dermatologist recommend me to try Neutrogena oil free acne face wash. When I started using this product I got instant result and within a month. Would highly recommend this product to those who are facing acne problems and those who have oily skin.
Date published: 2021-08-23
Rated

5

out of

5
by
sama
from
excellent face wash
I am 30 years old and I really appreciate you,i have acne on my face,your face wash is great.I have used your oil free moisturizer after that,and also i used your rapid clear acne cream for 2 month.it was a great combination.your face wash doesnt dry my skin,I used a different face wash and my experience shows your product is best and I am wondering about your sun screen,which one is oil free and have a high protection?
Date published: 2017-05-05